Print Friendly Version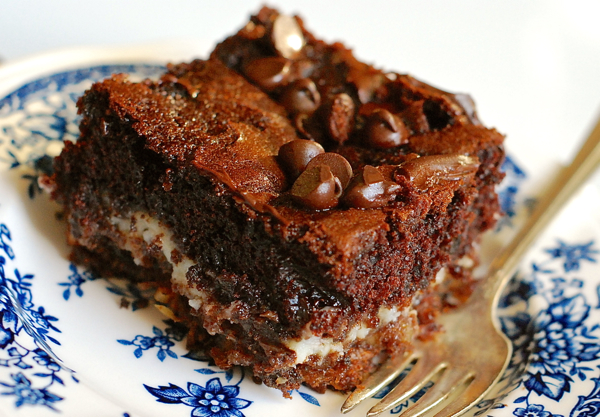 Have you ever had Earthquake Cake? It's a popular potluck and picnic cake here in Minnesota. I love it because it's so rich and chocolaty with "bursts" of cheesecake-like swirls throughout. See those yummy, moist layers? Soooo good! It's easy to make, and there's no need to frost this cake. You certainly can if you'd like to though! Or, just do what I do and serve each piece with a dollop of whipped cream and a maraschino cherry to make it pretty!
~ preheat oven to 350 degrees F. ~
1 heaping cup shredded, sweetened coconut
1 heaping cup chopped pecans or walnuts
1 (16 to 18 oz.) boxed, chocolate cake mix, made according to package directions
8 oz. cream cheese, softened to room temperature
1/2 cup butter, softened to room temperature
1 teaspoon pure vanilla extract
2 cups powdered sugar
1 and 1/2 cups chocolate chips
Grease a 9×13 cake pan generously with butter. Sprinkle the coconut and nuts evenly over the bottom of the pan. Make up the cake mix according to package directions (most cake mixes call for water, eggs and oil.)
Once batter is mixed, pour it over the coconut and nuts.
In the bowl of a stand mixer, mix cream cheese, butter, vanilla and powdered sugar, using the whisk attachment. Blend until smooth. Drop by generous spoonfuls all over the cake batter until you use it all. Sprinkle top with 1 cup of the chocolate chips. Bake in preheated oven for 50 minutes. Remove from oven. Sprinkle the rest of the chocolate chips over the top.
Allow cake to come to room temperature before cutting into pieces and serving. Top with frosting or whipped cream if you wish.
Enjoy!
~Melissa
You may enjoy these related posts: