Print Friendly Version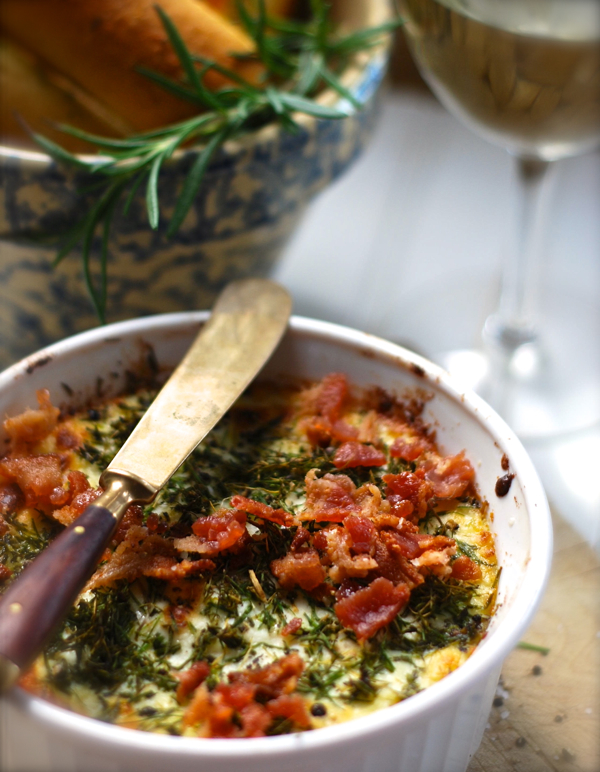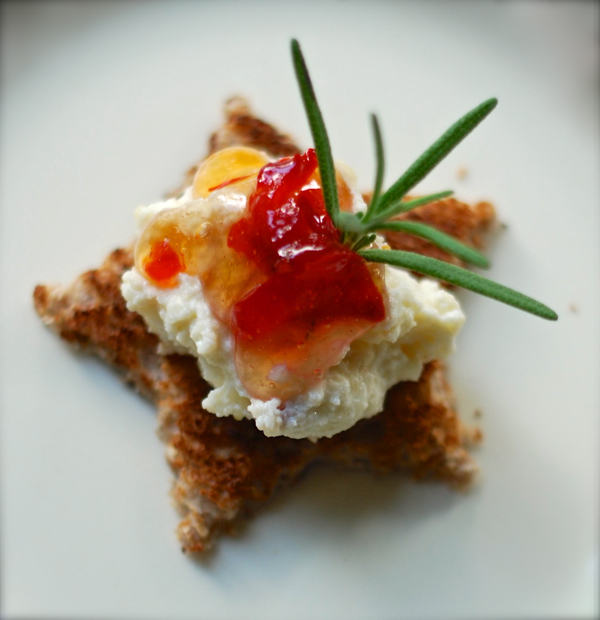 Wow. Every time I go to the Mall of America I am reminded why that craziness only happens about once a year. What a zoo. Very loud, lots of walking… after a few hours of the madness, I have the very strong urge to just start pushing people out of my way. I know that makes me sound mean. I've said too much. 🙂 hee hee…Happy to be home.
Last night I wanted to make us a yummy Friday night appetizer and I had some leftover ricotta from when I made the Tucci Benucch Baked Spaghetti. Hmmmmm….what to do? I had some Parmesan and mozzarella too….tons of fresh garden herbs. How about a hot, baked cheese dip for bread sticks? Oh yeah! This stuff turned out SO good. This is easy to whip up ahead of time too. Just make it and put in the fridge. When you're ready to serve apps it only takes 20 minutes to bake.
The name… Smokin' Hot Penelope Dip? Smokin=Bacon, Hot=baked+red pepper flakes, and Penelope= fresh rosemary. My friend Alice Phillips and I named her rosemary plants Penelope a few winters ago when she shipped a bunch of  rosemary to me. (She lives in a warmer climate, and in December, Minnesota is usually covered in a few feet of snow.) What a lovely surprise to receive a box of fresh herbs! One of the best Christmas presents I've ever received. So now you know the history of Penelope and how this dip got it's name.
1 cup whole milk ricotta cheese
1/2 cup grated Mozzarella cheese
1/3 cup grated Parmesan or Romano cheese
1/4 cup real mayonnaise (not low fat and NOT Miracle Whip)
1 Tablespoon extra virgin olive oil
2 large cloves garlic, pressed or very finely minced
1 teaspoon onion powder
1/2 teaspoon red pepper flakes
1 large sprig fresh rosemary, leaves removed and chopped very fine
3 Tablespoons fresh, snipped chives
3 strips applewood smoked bacon
coarse sea salt and freshly ground black pepper, to taste
baguette, bread sticks, crackers or toast points for dipping
1/2  jar Uncle Gary's  Gourmet Raspberry Jalapeno Pepper Jelly or Trader Joe's Hot & Sweet Pepper Jelly
Fry bacon until crispy. Cool on paper towel-lined plate. Crumble and place in a small bowl. Cover and set aside.
In a medium mixing bowl, combine: Ricotta, Mozzarella, Parmesan, mayonnaise, olive oil, garlic, onion powder and red pepper flakes. Mix well and spread evenly into a small, buttered, oven-safe casserole or bowl. Cover and refrigerate until you want to bake and serve.
When you're ready to serve, remove from refrigerator, sprinkle the chopped rosemary and chives over the top. Bake in a preheated, 375 degree oven until golden brown and bubbling around the edges and the dip is hot all the way through ***(15 to 20 minutes.)
***I baked our dip in a large, convection toaster oven and put the pre-made bread sticks in at the same time. Everything took 15 minutes to bake. If you use a small oven like this, watch closely. Food cooks/bakes much quicker in a little convection oven.
Remove from oven and sprinkle the bacon crumbles, salt and pepper over the top of the dip. Place on a cheeseboard and serve alongside your bread/crackers of choice and a jar of TJ's Hot & Sweet Pepper Jelly. The flavor combination is fantastic! Be prepared to share this recipe!
XO,
~Melissa
You may enjoy these related posts: