Print Friendly Version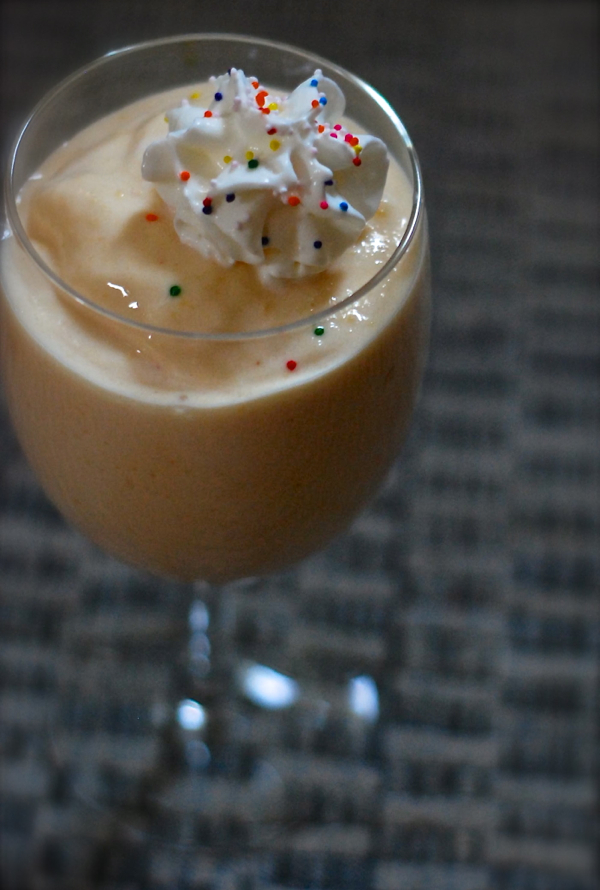 Hello and happy Monday, Lovelies 🙂 We've been snuggling in and avoiding the frozen tundra that is the outdoors here in Minnesota. The governor declared today and tomorrow mandatory "snow" days because of the extremely cold weather we're experiencing in the midwest.  So, that means no school and lots of indoor activity.
I started the day by making  these yummy, creamy, healthy peach smoothies for our brekky. My daughter Andie visited and brought both grandgirls. We watched THIS movie while enjoying a fabulous chili and corn bread lunch that our friend Dave prepared and shared with us (Hi, Dave!). We drank tons of tea (per usual) and just hung out. What a great way to spend the day.
Gracie and I have plans to cook and bake all day tomorrow, since this little icy hiatus has been extended. What are your favorite treats to cook on snowy winter days?
makes 3 big smoothies:
2 cups fresh or frozen peach slices
1 and 1/2 cups vanilla greek yogurt
1 to 2 cups skim milk
Place all ingredients in the bowl of a blender. Pulse until blended and then puree until smooth. Pour into glasses and garnish with a little dollop of whipped cream and some rainbow sprinkles (if you like.)
Enjoy!
~Melissa
You may enjoy these related posts: