Print Friendly Version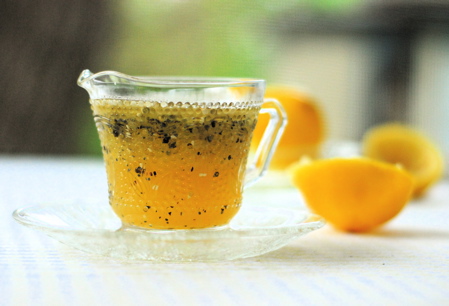 ~ honey lemon poppyseed vinaigrette ~
We grilled up some wild Alaskan salmon, served it over baby spring greens and drizzled this wonderful lemon vinaigrette over the top. This is the perfect accompaniment to fish, but would also be wonderful with chicken and just about any salad. Also, lovely as a dipping oil for rosemary bread or baguette!
juice of 3 large lemons
zest of 1/2 lemon
1/4 cup dry white wine
1/4 cup unfiltered extra virgin olive oil
1/4 cup clover honey
1 clove fresh garlic, grated
2 teaspoons grated onion
1 teaspoon poppyseeds
1 teaspoon toasted sesame seeds
1 teaspoon sea salt
1 teaspoon freshly grated black or white pepper
Place all in a large canning jar, shake vigorously before serving. Keeps in the refrigerator for two weeks.
Enjoy!
~Melissa
You may enjoy these related posts: