Print Friendly Version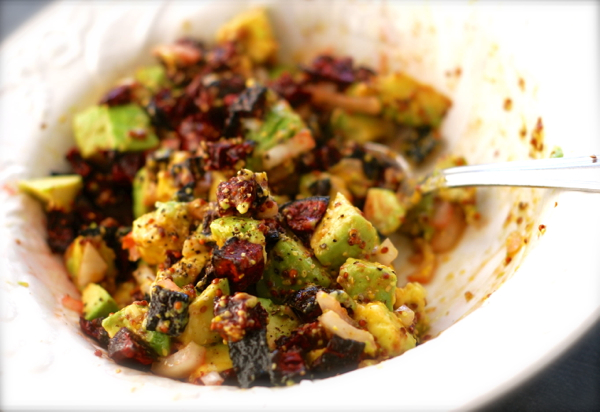 This is absolutely one of the best beet salads I've ever had. It's super healthy, and the addition of avocados makes it substantial enough to pass as lunch.
2 Tablespoons grainy Dijon mustard
3 Tablespoons raw apple cider vinegar
2/3 cup extra virgin olive oil, divided (I use unfiltered)
coarse sea salt, to taste
freshly ground black pepper, to taste
3 large, fresh beets, washed, peeled and cubed
1 large, perfectly ripe avocado, peeled, pitted and diced
1/4 cup finely chopped sweet yellow onion (such as Vidalia)
crumbled chevre (goat cheese) optional
In a small mixing bowl, whisk together the mustard, vinegar, olive oil, salt and pepper. Set this dressing aside while you prepare your oven roasted beets.
Toss the raw beet cubes with 3 Tablespoons of the olive oil. Place them in a single layer on a baking sheet, and roast them in a 425 degree F. oven for approximately 20 minutes, or until slightly caramelized and tender. Cool completely.
Place cooled beets in a large mixing bowl along with the avocado chunks and chopped onion. Drizzle all of the dressing over the veggies and gently toss until everything is evenly coated. Crumble a little chevre over the salad if you wish. Serve.
Enjoy!
~Melissa
You may enjoy these related posts: