Print Friendly Version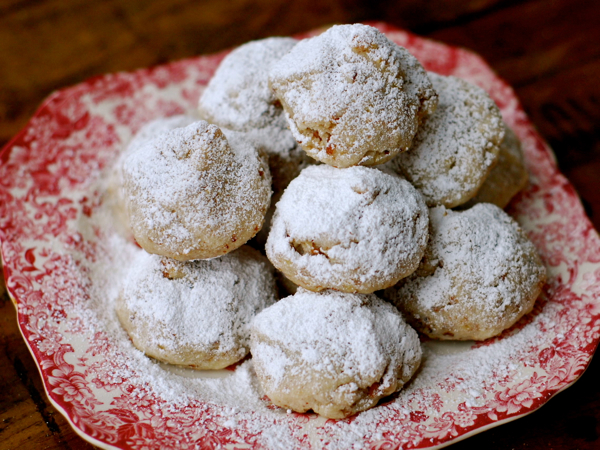 I've been running in a million different directions in spite of my resolution to have a relaxed, laid back holiday. My my my… Lots of cooking, baking, cleaning, decorating and shopping these last few days.
Here's a traditional, Christmas favorite. We've made these with the classic Hershey's Kisses, Hershey's Hugs, Peppermint Kisses and Caramel Kisses. My favorites are the classic, no frills kisses and the caramel, but you might want to do a taste test and decide for yourself. 😉
2 sticks unsalted butter, softened to room temperature
3/4 cup sugar
1/2 teaspoon freshly grated nutmeg
2 cups all-purpose flour
1 and 1/4 cups very finely chopped pecans
8 oz. caramel-filled Hershey's Kisses (or regular kisses)
powdered sugar for sifting over cookies
In the bowl of your counter-top mixer, combine the butter, sugar and nutmeg. Using the whisk attachment, beat until fluffy. Add flour and pecans and mix just until dough comes together. Gather dough into a ball and then flatten into a disc. Wrap in a Ziploc bag or plastic wrap. Refrigerate for 30 minutes.
Preheat oven to 350 degrees F.
Remove foil from kisses and gently insert them into 1 inch balls of the cookie dough. Make sure the candy is completely covered by the dough. Place cookies 2 inches apart from on another on ungreased cookie sheets. Bake for approximately 10 to 12 minutes, or just until slightly golden around the edges. Cool cookies completely before sifting a liberal amount of powdered sugar over them.
Enjoy!
~Melissa
You may enjoy these related posts: