Print Friendly Version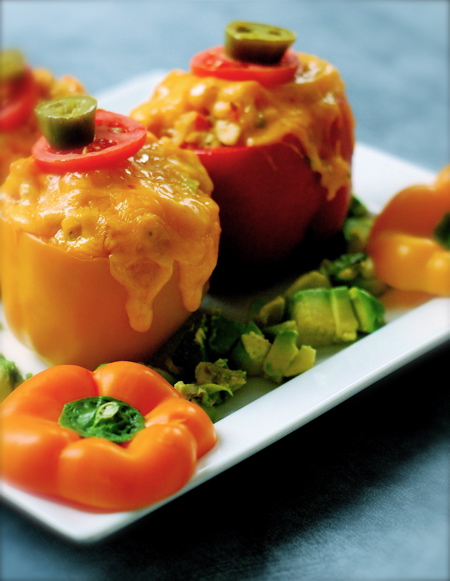 ~ cheesy chicken "nacho" stuffed peppers ~
Did your mom ever make stuffed peppers? I remember when we had them. They were always green and stuffed with what was basically hamburger hot dish and topped with ketchup. Sometimes I crave them, and the smell of the peppers baking in the oven brings back memories of childhood.
A few nights ago I decided to create a new stuffed pepper recipe inspired by the cheesy spicy taste of nachos. I used chicken breast instead of hamburger, amped up the veggie content, added a little spicy Sriracha for some kick, and topped the whole thing with melty cheddar cheese. They turned out awesome. Try them sometime if you're ready for a change from the classic "mom" food.
6 large, sweet bell peppers in various colors
1 cup cooked rice
2  Tablespoons chopped fresh parsley or cilantro
1 teaspoon garlic powder
1 stick celery, chopped
1/2 large onion, chopped
1 carrot, peeled and chopped
1 Roma tomato, seeded and chopped
1-2 Tablespoons seeded and chopped jalapeno pepper
2 fully cooked boneless skinless chicken breasts, chopped
3 cups shredded cheddar cheese, divided
1 can creamed corn
2 teaspoons taco seasoning
Sriracha (to taste)
2 avocados, chopped
6 small slices of Roma tomato for garnish
6 slices jalapeno for garnish
Wash the peppers, cut the tops off and set them aside. Remove the seeds from the peppers and place them in a large pot of boiling water. Push them under so they're submerged and let them cook for 3-4 minutes, until just starting to soften. Remove them to paper towels and invert them so they drain.
While the peppers are draining, saute your chopped celery, onion, carrot, tomato and jalapeno in a little olive oil just until the onion is getting soft and transparent. Combine the cooked rice with the sauteed veggies in a large bowl. Add the cooked, chopped chicken, 1 cup of the cheddar cheese, the can of creamed corn, taco seasoning and a teaspoon or two of Sriracha hot sauce (or your favorite hot sauce…Tabasco is good in this too.)
Gently blot the insides of the peppers dry, being careful not to tear them. Stuff the peppers with the rice mixture (you may have some left over…if so, just place the rest in an oven safe bowl and bake it alongside the stuffed peppers.)
Place the stuffed peppers in a glass cake pan or casserole. Bake at 350 degrees F for about 30 minutes, or just until the stuffing in the peppers is hot all the way through. Top the peppers with the rest of the cheese, a thin slice of tomato and a jalapeno ring. Bake just until the cheese is melted. Place each pepper on a little bed of chopped avocado. Serve immediately.
Enjoy!
~Melissa
You may enjoy these related posts: