Print Friendly Version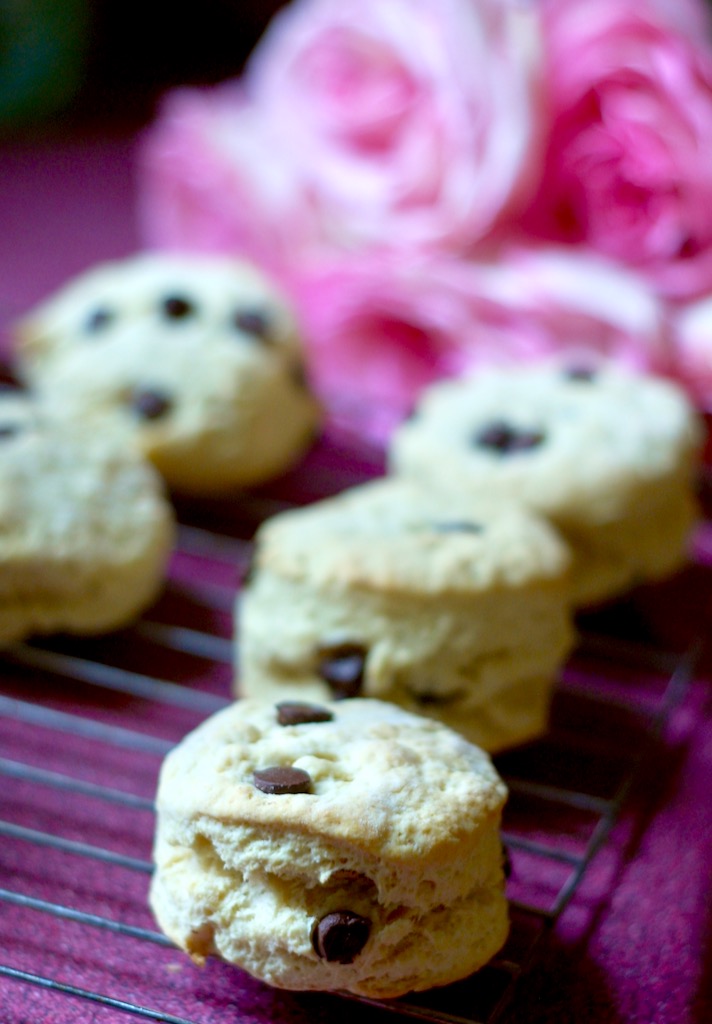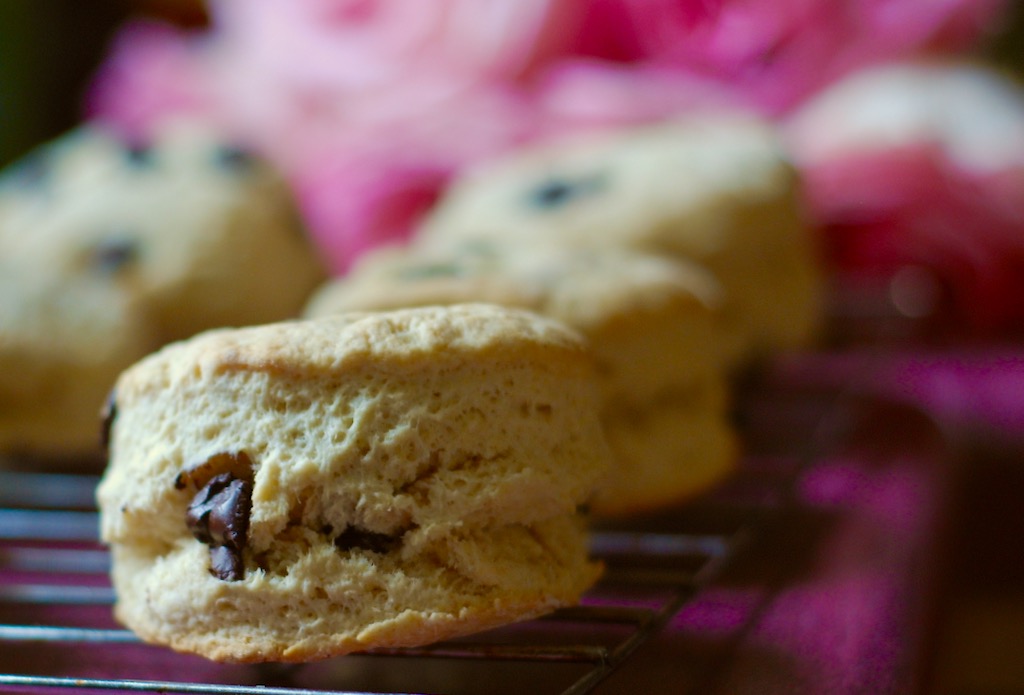 I've had a craving for scones the last couple days. The tall, flaky, buttery kind I used to make every day at the tearoom. I haven't attempted making them vegan until now, and they really did turn out great! So, roll up your sleeves, gather your ingredients, and put the kettle on. Time to make some scones!
You can add 1 cup of anything you like to these scones. Just fold it in at the end before rolling out and baking. I added chocolate chips, but you could try dried fruit, frozen berries, almonds… The possibilities are endless.
These scones are easy to prepare and the ingredients all go together fast so you can easily whip up a batch for breakfast or an after school snack… and tea time, of course!
~ preheat oven to 425 degrees F. ~
3 cups self rising flour
1 teaspoon salt
1 teaspoon baking powder
1/2 cup cold vegan butter (we use organic Earth Balance)
1/4 cup sugar
3/4 cup soy milk (almond would work too)
1 teaspoon pure vanilla extract
2 Tablespoons fresh lemon juice
1 cup semi-sweet, vegan chocolate chips
Pour soy milk in a small bowl and stir in lemon juice. Set aside.
Place flour, salt, and baking powder in a large mixing bowl. Mix. Add cold butter. Using fingers or a fork, cut butter into the dry mixture until uniform and crumbly. Add sugar, followed by the soy milk mixture and vanilla. Mix, just to combine, using a wooden spoon. Gently fold in the chocolate chips (or whatever you're using.) Don't over mix or the dough will become tough.
Transfer dough to a floured surface. Using your hands, pat to about 2 inches thick, adding a little more flour if the dough seems too sticky.
Using a biscuit cutter, cut out scones and place them on a parchment lined baking sheet (or use a Silpat mat instead of parchment, if you have one.) Continue to flatten dough and cut out scones until you use all the dough. You should have approximately 8 scones.
Bake for 13 to 20 minutes, or until golden and scones sound hollow when tapped on the bottom.
Cool and serve with butter or Devonshire cream, lemon curd or jam!
Cheers!
~Melissa
You may enjoy these related posts: