Print Friendly Version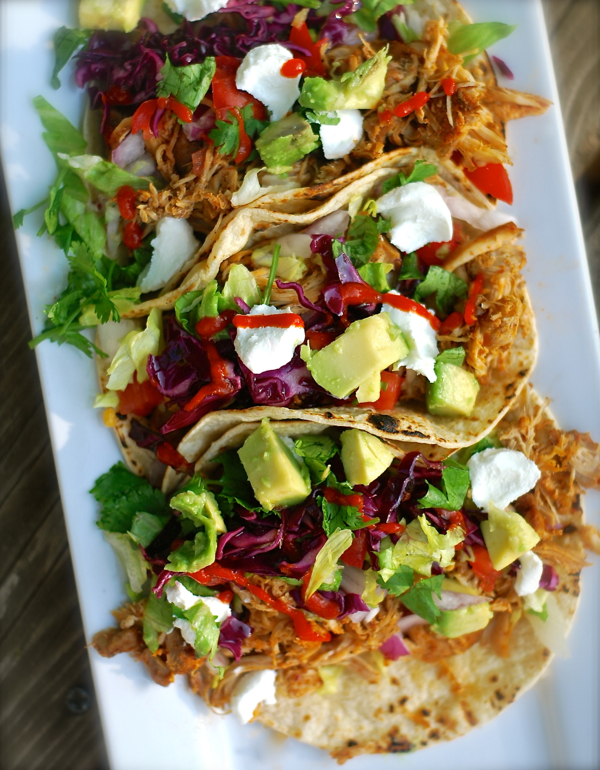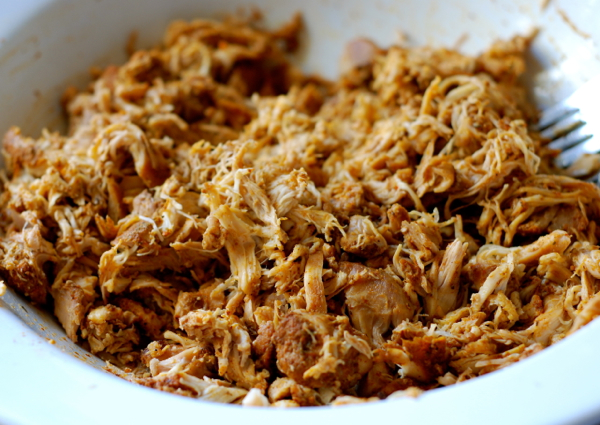 Mmmmm! Are you ready for this super easy, delicious, recipe for chicken tacos? Only four hours in the slow cooker and they're done. You'll have a bunch of tender, juicy, flavorful chicken that is perfect for tacos. Feel free to double or triple the recipe as you see fit. A fun way to serve these tacos is "bar" style. Just line up all your ingredients on the counter, leave the meat in the slow cooker on the WARM setting, and let guests build their own tacos. So fun and so much easier on the host and/or hostess!
Note: If you don't happen to have everything on the list of spice ingredients, don't worry about it. You can omit some stuff if you need to. Another option would be to put a packet of pre-made taco seasoning in with the meat if you have that on hand, or if you're in a big hurry. I use the long list of spices because it's my personal favorite blend of flavors, and it's much lower in sodium than a taco seasoning packet. Do whatever works best for you.
Serve these tacos with your favorite taco shells and toppings. If you want to make them the way I did, lightly warm some corn tortillas over a burner, and see the list of suggested toppings at the bottom of this post.
for 12 to 16 tacos:
2 to 3 lb. boneless skinless chicken thighs
2 Tablespoons buttermilk
1/2 teaspoon liquid smoke
1/4 cup mild chili powder
1 Tablespoon cumin
2 teaspoons onion powder
2 teaspoons Mexican oregano
1 teaspoon garlic powder
1 teaspoon regular or smoked paprika
1/2 teaspoon sea salt
1/2 teaspoon freshly ground black pepper
1/4 teaspoon cayenne pepper
a pinch of cinnamon
Place the chicken thighs in a 4 to 7 quart slow cooker. Drizzle the buttermilk and liquid smoke over the meat and toss to coat. Mix the rest of the seasonings together in a small mixing bowl. Sprinkle them over the meat. Toss to coat. Cover slow cooker and place it on the HIGH setting for 4 hours, or the LOW setting for 7 to 8 hours.
To serve: Remove meat from liquid in slow cooker. Discard liquid or save it to make THIS SOUP. Shred meat using two forks. Return meat to slow cooker. Cover and set on the WARM setting until ready to serve. (It could stay on warm for about an hour or two prior to serving.)
suggested toppings:
chopped sweet yellow bell pepper
green onion, sliced (including green tops)
grape tomatoes, quartered
shredded purple cabbage + red wine vinegar + honey + olive oil
ranch dressing
cilantro
avocado
jalapeno
crumbled goat cheese
sriracha hot sauce
Enjoy!
~Melissa
You may enjoy these related posts: