Print Friendly Version
"If we are going to pay this much for crab it better sing and dance and introduce us to the Little Mermaid!" Tina Fey playing Claire Foster in the movie Date Night
Saturday was date night so we thought it might be fun to go see the movie "Date Night" starring Steve Carell and Tina Fey. It turned out to be very romantic and funny, lots of great one liners, and included a hilarious scene with James Franco. Just enough corn sprinkled throughout to make it cute.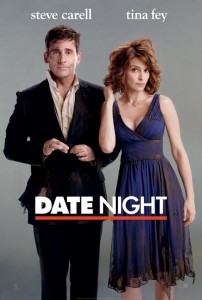 We decided to go home after the movie and make dinner. This turned out so good! We listened to Vampire Weekend while we cooked…
Creamy Tomato Sherry Rigatoni with Grilled Shrimp
1 lb large shrimp, grilled
16 oz. rigatoni
2 Tablespoons extra virgin olive oil
4 Tablespoons butter
3 cloves garlic, minced
2 (14 oz) cans Muir Glenn fire roasted, diced tomatoes in juice
2 teaspoons dry oregano
2 teaspoons dry basil
1 teaspoon Old Bay seasoning
1 and 1/2 cups cream sherry
1/2 cup heavy cream
2/3 cup grated Parmesan cheese
1/4 cup fresh parsley, finely chopped
Salt and fresh ground black pepper
Grill shrimp on skewers. Cook rigatoni according to package directions. When the pasta is done, drain well and transfer to a large pasta serving bowl. Toss with the 2 Tablespoons of olive oil.
In a large skillet, heat the 4 Tablespoons of butter. Saute the minced garlic in the butter just until golden brown. Add both cans of tomatoes in juice, spices, cream sherry, and heavy cream. Cook over medium-high heat so the sauce gently bubbles and reduces to about half. Stir frequently. Add the Parmesan cheese and grilled shrimp. Gently combine the sauce with the cooked pasta. Season with salt and pepper to taste, garnish with parsley.
Sherry Ice Cream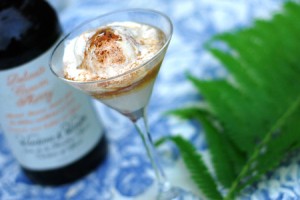 We made this dessert by simply topping vanilla ice cream with a pinch of cinnamon and a little cream sherry. There is something perfect about having a little ice cream for dessert after eating pasta. MMMMM….
What did you do over the weekend?
~Melissa
You may enjoy these related posts: