Print Friendly Version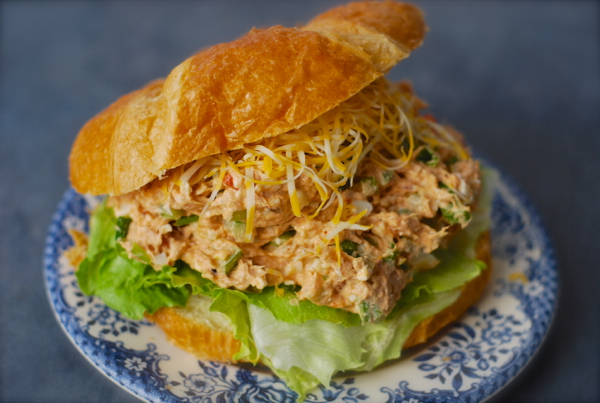 Mmmmmm…. We're enjoying a cozy soup supper tonight and having these awesome sandwiches to go with it. These tuna fish sandwiches are so good. The extra ingredients (including bacon, hello) and the buttery croissant take humble tuna fish salad to a whole new level. They really are the ultimate!
 4 to 5 Ultimate Tuna Fish Salad Croissant Sandwiches:
4 or 5 large, fresh, buttery croissants, split horizontally
2 (6 oz.) cans Chunk White Tongol Tuna packed in spring water (or your favorite), drain well
2 hard boiled eggs, peeled, cooled and chopped
6 pieces of bacon, cooked until crispy and crumbled
1 heaping Tablespoon Dijon mustard
1 Tablespoon lemon juice
2 to 3 teaspoons of your favorite hot sauce
2 teaspoons sugar
1/4 cup mayonnaise (or more, if you prefer)
1/4 cup cottage cheese (or more if you prefer)
2 stalks celery, chopped
3 green onions, plus green tops, chopped
2 Tablespoons capers, drained well (or 10 green olives, chopped)
2 large cloves fresh garlic, minced
1/4 teaspoon to 1/2 teaspoon crushed red pepper flakes
sea salt and freshly ground black pepper, to taste
smoked paprika, lettuce and cheddar-jack cheese (toppings)
Split croissants horizontally and place them on plates. Drain the tuna very well. Place it in a big mixing bowl with the eggs, bacon, Dijon, lemon juice, hot sauce, sugar, mayonnaise, cottage cheese, celery, onions, capers, garlic, and red pepper. Mix well. Salt and pepper to taste. Place lettuce leaves on the bottom halves of the croissants, followed by a generous portion of the tuna fish salad, and topped with a sprinkling of smoked paprika, some grated cheese and the croissant tops. Serve sandwiches with your favorite pickles and chips or your favorite soup.
Enjoy!
~Melissa
You may enjoy these related posts: