Print Friendly Version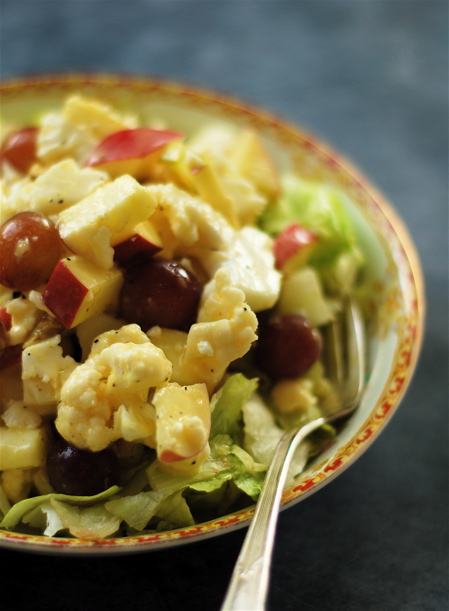 ~ vineyard crunch salad ~
I made this yummy salad to go with our grilled NY strip steaks last night and everyone loved it. It's crunchy, full of flavor, and I just adore the dressing. Last night I made this as a side salad, but you could add chicken or turkey chunks to it if you'll be serving it as an entree.
for the salad:
2 sweet, crisp apples, unpeeled and chopped
1 small head cauliflower, chopped
1 cup chopped walnuts
1 cup of grapes
Combine the above ingredients in a big mixing bowl so everything is evenly incorporated.
for the dressing :
1 cup real mayonnaise
1/2 cup sugar
1 Tablespoon prepared yellow mustard
1 Tablespoon white vinegar
1 teaspoon horseradish
salt and pepper to taste
Combine the dressing ingredients in a small bowl and mix with a wire whisk until the sugar is dissolved. Add salt and pepper to taste. Pour over the salad and mix gently until everything is evenly combined.
Enjoy!
~Melissa
You may enjoy these related posts: