Print Friendly Version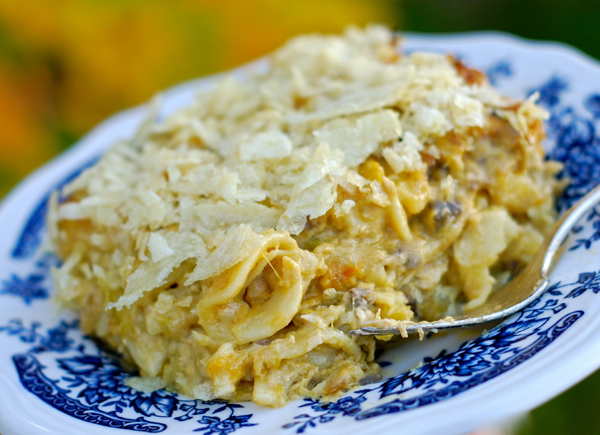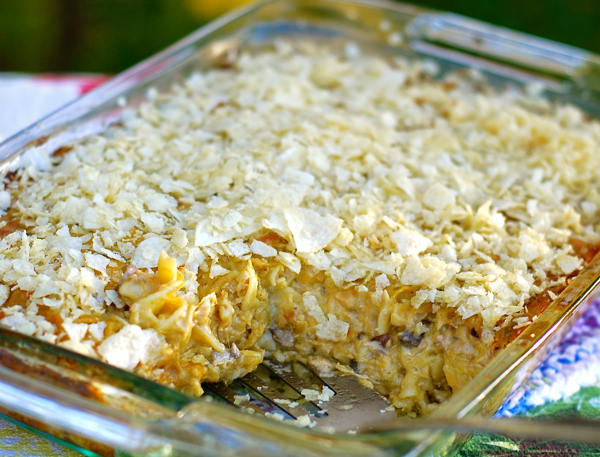 There's only one recipe for cheesy tuna noodle casserole in our family and this is it! Cheesy tuna noodle casserole is definitely a Minnesota staple during the cold months. This particular delicacy is extra cheesy, creamy, tuna noodle deliciousness at it's very best. No, it's not health food. Yes, it's a bit decadent. If you're going to do it, you might as well do it right.
Oh, and in Minnesota we don't call casserole, casserole. It's hot dish. I just say casserole so everyone else (who isn't from Minnesota) knows what the hell I'm talking about.
Trust me. You're going to love it. Even people who swear they don't like tuna noodle casserole love it.
Below you'll see that I say the cashews are optional. They are, but I highly recommend trying a few bites with the cashews to see what you think. Unless you hate cashews. Then, just ignore me.
Get ready to make yummy noises.
~ preheat oven to 350 degrees F. ~
8 generous portions
12 oz. egg noodles (I use Creamette extra wide)
10 oz. extra sharp cheddar cheese, shredded
12 to 13 oz. canned tuna, drained well and flaked (I use Wild Planet albacore tuna)
1 (15 oz.) can asparagus, drained very well
8 oz. fresh or canned mushrooms, chopped (drained well if canned)
2 (10.75 oz.) cans Campbell's cream of chicken and/or mushroom soup (or use homemade), don't dilute the soup, just use it straight from the can
1 cup Hellman's mayonnaise (not lite and not Miracle Whip)
8 oz. bag salted cashews, optional
3 to 4 big handfuls plain, salted potato chips, crushed
salt and pepper, to taste
Make noodles according to package directions for al dente pasta (I cook mine for 6 minutes.) Drain well. Cover and set aside.
In a large mixing bowl, combine: shredded cheddar cheese, tuna that's been broken into small pieces, asparagus, mushrooms, undiluted cream soup, and mayonnaise. Stir well. Gently fold in noodles.
Generously butter a 9×13 glass baking pan. Spread casserole mixture evenly into prepared pan. Bake, uncovered, in preheated oven for 1 hour.
Serve with some of the potato chips and cashews sprinkled over the top. Salt and pepper, to taste.
Enjoy!
~Melissa
You may enjoy these related posts: