Print Friendly Version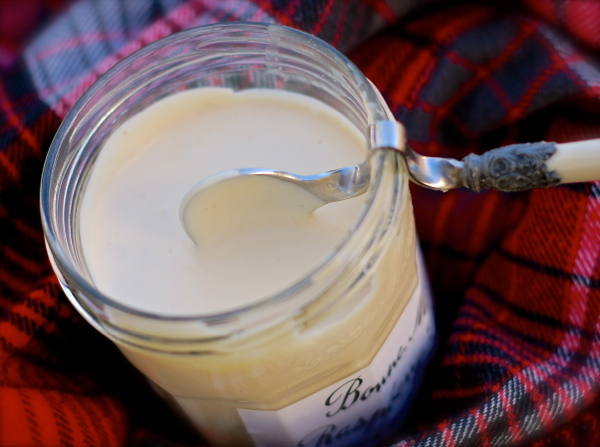 This is a traditional tea time treat in Scotland, and I've always wanted to make some but could never find the right kind of cream. What you need is unpasteurized or only partially pasteurized cream. Here in the United States, for years, you could only get the ultra-pasteurized variety, and it doesn't work for this recipe. Now with all of the organic dairy farms in the Midwest, it's becoming easier to get your hands on the correct cream.
Clotted cream is actually very easy to make, but it does take a little patience because of the long baking time. You bake it low and slow, pretty much all day, so if you need some for a certain date, make sure you plan accordingly. Your tea guests will love you!
~ preheat oven to 180 degrees F. ~
2 cups heavy whipping cream
Move rack to middle of oven. Pour cream into a glass, oven-proof dish with a cover. Set in oven and bake until a thick, yellowish skin has formed on top (8 to 12 hours.)
Cool completely on counter. Refrigerate overnight. The next morning, use a spoon to carefully skim the firm clotted cream from the surface. Remove cream to another bowl, leaving the thin whey at the bottom of the baking bowl. Discard whey. Whip cream using a whisk, until thickened to the texture of whipped butter. The first time I made this it didn't come out quite that thick, but it was still wonderful on scones with jam and lemon curd.
Enjoy!
~Melissa
You may enjoy these related posts: