Print Friendly Version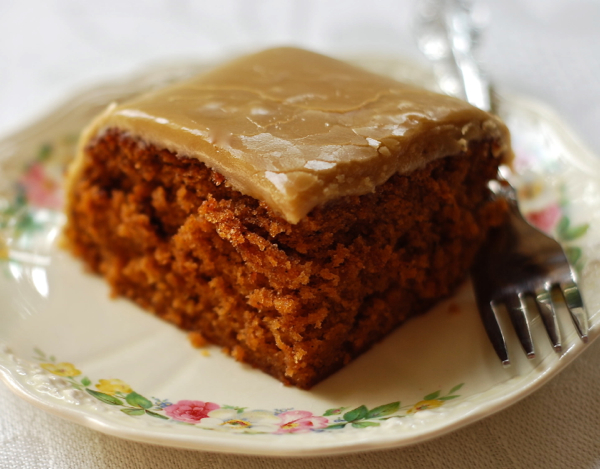 Spending lots of time reading and browsing vintage cookbooks, sipping iced tea, and today…a bit of pre-autumn cleaning. The temperature only needs to dip below 70 and I start thinking school shopping, autumn road trips to our favorite spot on Lake Superior's north shore, soup, bread, nesting…nesting…nesting. Are you like this?
Anyway, I came across a very old recipe for a simple tomato soup cake with boiled caramel frosting during one of these late night recipe quests in my study. How interesting and unique! The perfect recipe to try and blog about, I thought. Oh MY. Am I ever glad I did! This is one of the best little cakes I've ever made. Moist, wonderful spice cake-like flavor. (No, it doesn't taste like tomato soup.) And the frosting? Don't even get me started. I want to marry the frosting.
for the cake:
1/2 cup unsalted butter, softened
1 cup sugar
1 egg, lightly beaten
1 can condensed tomato soup
1 and 1/2 cups flour
1 teaspoon baking soda
1 teaspoon salt
1 teaspoon cinnamon
1/2 teaspoon nutmeg
1/4 teaspoon ground ginger
1/4 teaspoon ground cloves
Mix the butter and sugar together until light and fluffy. Add the egg and soup, and mix well. Sift the flour, soda, salt and spices into the butter mixture. Mix until smooth and everything is evenly combined. Pour into a buttered 9 x 9 square, glass baking pan. Bake at 350 degrees F. until a toothpick comes clean when inserted into center of cake. (About 35 minutes.) It's important to not over-bake this cake.
for the frosting:
1 and 1/2 cups brown sugar
1/3 cup unsalted butter, melted
1/3 cup whole milk
1/4 teaspoon salt
Place all ingredients in a small saucepan. Mix well with a wire whisk. Bring to a boil, stirring constantly and allow to boil for one minute. Remove from heat and continue whisking while the frosting cools and becomes thick. (5 to 10 minutes.) Pour over cake, and working quickly, smooth over surface of cake until it drips down the sides.
Enjoy!
~Melissa
You may enjoy these related posts: