Print Friendly Version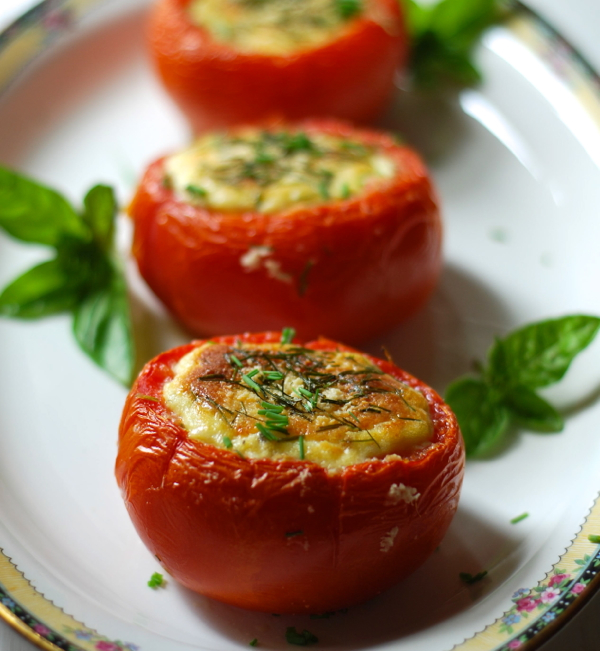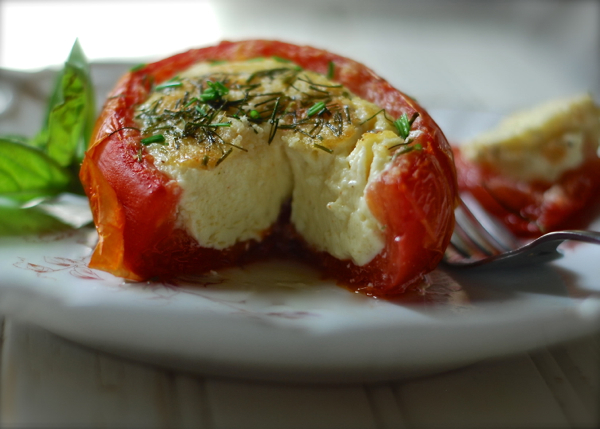 When I went up to the farmer's market to get the tomatoes for this dish I was thinking about a romantic lunch on the deck with my little family and about how nice it would be to finally get a decent photo of a stuffed tomato on my blog. I have several photos on earlier posts that I am slowly, but surely replacing with new and improved images. (You may have noticed.) I have to laugh when I look at them…. Here's the stuffed tomato post I did back in 2010. I was still shooting with a little Sony Cybershot back then. The photo in that post was one of my first attempts at taking a photo on a "manual" setting instead of "automatic." I call this masterpiece Baked Tomatoes on the Sun 😉 What do you think? hee hee.
So, yeah, my photos have gotten better. I've only had to take about 100+ a day, for the last year and a half, to see an improvement. Every day, even when I don't feel like it. I didn't take any classes and I didn't receive any formal training. It goes to show… practice really does make "perfect." But, as all photographers know, you almost never feel that any photo is "perfect." They can only ever reach the status of being "really good", and you sit back and say "Wow! nice shot!" BUT…In the back of your mind you're always thinking how you'll do it just a bit different next time, and the tiny intricacies that would have improved that nice, but not perfect, shot.
I mention this because I've gotten several emails concerning my photos since I've been shooting for national magazines over this past year. Everyone wants to know how I improved so fast. The not so glamorous answer is "work." Lots and lots of practice and hard work. 🙂 Oh, and I did get a nicer camera. That's just a tool though. It doesn't just automatically take pretty photos (darn!) I secretly thought there would be something magical about spending a little cash on a nice camera. It turns out that when you get a bigger, better, more complicated piece of machinery to do your art…that there's a bigger and more complicated learning curve that goes along with it. The only way to figure out what your camera can do is to switch it from automatic to manual (and don't look back…) and then just start taking photos of everything. Photography classes might help, but in my honest opinion I've never enjoyed or learned much from art classes of any kind. I find it difficult and frustrating trying to learn how to create art in a classroom. You aren't going to become a good photographer by osmosis and a set of rules.
A good editing program can be a nice bag of tricks to have in your back pocket. I love iPhoto, and I'm just starting to learn more about Photo Shop and Light Room. Again…you can't edit a mediocre photo and make it perfect or even great. You have to have a good photo to begin with.
(Here's another post on "The New Adventure" I embarked on starting January, 2012.)
Anyway…. enough about that. Thanks for all of the awesome compliments and inquiries. I sooooo appreciate the encouragement and feedback. If you have any questions I'd be happy to answer them. I'm still on this journey myself, and continue to learn so much!
now for that recipe….
These little souffles make a lovely breakfast or brunch entree when accompanied by fresh fruit and bacon or sausage. I like to cut up little pieces of the souffle + tomato and pile them on crusty, well toasted and buttered sour dough! Super YUM! They also make a fantastic first course to a more elaborate Italian lunch or dinner party.
~ serves 3 to 4 ~
Preheat oven to 350 degrees F.
3 or 4 medium, ripe tomatoes
2 large eggs
3/4 cup heavy cream
1 teaspoon salt
1 teaspoon freshly ground black pepper
1/2 teaspoon onion powder
1/2 teaspoon garlic powder
dash of cayenne pepper
1/4 cup freshly grated Parmesan cheese
2 Tablespoons fresh snipped chives
Preheat oven. Grease a small casserole pan or cake pan with a couple teaspoons of olive oil. Remove tops from tomatoes and very carefully scoop out insides (I use a grapefruit spoon for this task.) Leave a generous wall, and opening at the top. Salt insides of tomatoes and turn them upside down on paper towels. Allow them to "drain" for 20 minutes. Carefully blot insides of tomatoes with paper towels to dry them as much as possible before filling.
In a large glass measuring cup, or pancake batter bowl with a spout, combine eggs, cream, salt, pepper, onion powder, garlic powder and cayenne. Using a wire whisk, mix until uniform but not foamy. Place the tomatoes in the baking dish and fill them with the egg mixture, 3/4 full. Sprinkle Parmesan cheese and snipped chives over the tops of the tomatoes. Place in preheated oven and bake for 45 to 55 minutes, or until tops are lightly golden, the souffles no longer jiggle, and a sharp knife comes clean when inserted into the center of the largest souffle.
Enjoy!
~Melissa
You may enjoy these related posts: