Print Friendly Version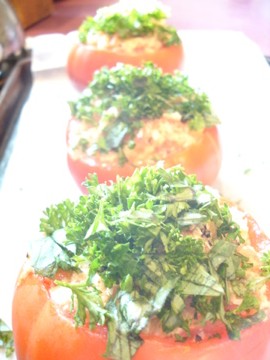 "Venice is like eating an entire box of chocolate liqueurs in one go." ~Truman Capote
These make a nice first course or side dish.
~Venetian Baked Tomatoes~
8 medium, round tomatoes
5 slices crustless bread, cubed
1/4 cup extra virgin olive oil
1 tsp. salt
1 egg, beaten
1 garlic clove, minced
1 tsp. onion powder
2/3 cup freshly grated Parmesan cheese
fresh parsley and basil, chopped fine
Wash, dry and slice the tops off tomatoes. Scoop insides into a bowl. Place bread cubes into the bowl with the tomato insides. Add olive oil,salt, egg, garlic, and onion powder. Mix well. Add Parmesan cheese and combine. Dry the insides of the tomatoes well and sprinkle with a little salt and pepper. Fill with the sauce, finishing just above the top of each tomato. Sprinkle the parsley/basil mixture over the tops of filled tomatoes. Arrange on a baking sheet that has either been oiled or lined with parchment. Bake for 20 minutes at 350 degrees. Turn off the oven and allow the tomatoes to rest for another 5-10 minutes before removing. Serve warm.
Enjoy!
~Melissa
You may enjoy these related posts: