Print Friendly Version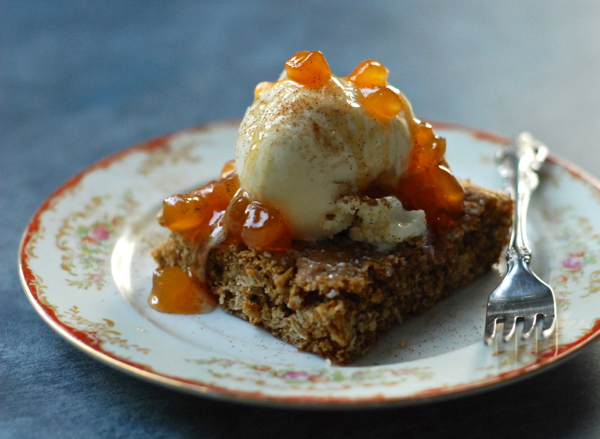 Today was a wonderful, relaxing day spent with one of my BFFs, Chantelle, in St. Paul. We hung out at her place. We talked, we laughed, I drank too much coffee (because it tasted so good and she had my favorite vanilla creamer), and we enjoyed a lovely lunch. Now I'm back in my little Red Wing and I'm thinking about making supper. Tonight it's going to be a simple meal… wine-poached chicken with herbs, mushroom risotto, sweet potato puree and cold, creamy cucumber salad. What's cooking at your house?
Yesterday I made up a pan of these spiced oatmeal cookie bars. They turned out soooo, delicious, dense and chewy. No raisins, because I don't believe in ruining a perfectly yummy oatmeal bar with raisins. If you like raisins in your oatmeal bars…just add a cup to this recipe at the same time you add the old fashioned oats. Just don't tell me you're doing it.
These bars are the perfect vehicle for premium vanilla ice cream and your favorite apple pie filling or spiced, Dutch apple jam.
for the bars:
~ preheat oven to 350 degrees F. ~
1/2 cup + 6 Tablespoons unsalted butter, softened
3/4 cup firmly packed brown sugar
1/2 cup granulated sugar
2 large eggs
2 teaspoons vanilla
1 and 1/2 cups all-purpose flour
1 teaspoon baking soda
1 teaspoon cinnamon
1 teaspoon pumpkin pie spice
1/4 teaspoon ground cloves
1/2 teaspoon salt
3 cup old fashioned, rolled oats (not quick cooking or steel cut)
1 cup raisins or other dried fruit (optional)
Generously butter a 9 x 13, glass baking pan.
In the bowl of your tabletop mixer/Kitchen Aid, beat the softened butter and sugars on medium speed until smooth and creamy. Add eggs and vanilla and beat well. Add flour, soda, spices and salt. Turn mixer to low just to combine, then turn it up and beat until everything is well mixed. Remove bowl from stand and fold in the oats and optional raisins with a wooden spoon until evenly combined.
Transfer dough to prepared baking pan. Using the buttered back of a large serving spoon, spread the dough into an even layer in the pan.
Bake for 30 minutes. Remove from oven. Allow to cool for 20 minutes before cutting into 12 pieces.
To serve: Place a bar on a dessert plate. Top with a scoop of vanilla ice cream and some apple pie filling or Dutch apple jam. (We used Smucker's Orchard's Finest Fall Harvest Cinnamon Apple Preserves.) Garnish with a dusting of cinnamon.
Enjoy!
~Melissa
You may enjoy these related posts: