Print Friendly Version
"Orange is the happiest color" ~Frank Sinatra
This chicken turned out so tender and juicy on the inside with a caramelized sticky tangy-sweet crust, I just couldn't keep this recipe to myself. I used Cara Cara oranges which I think make the sauce on this chicken extra special. Cara Cara oranges are navel oranges that are a bit like blood oranges, as their flesh is a ruby pink color. It takes about 5 of these beauties to get enough juice for this recipe, but they're part of what puts this chicken over the top and into a realm of it's own. It does take a few hours to cook, so if you usually start getting ready for dinner a half hour before you want to eat, you'll have to plan for this one 😉 It smells so delicious while it's cooking. Enjoy!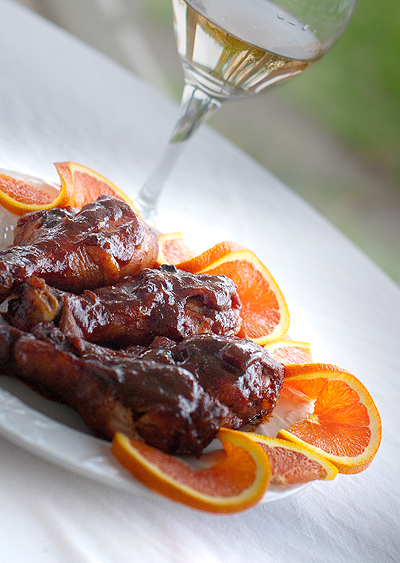 1/2 cup dark brown sugar
1 and 1/2 cups freshly squeezed Cara Cara orange juice (or regular orange juice will do)
2 Tablespoons orange zest
1/2 cup tomato paste
1/4 cup dry red wine*
1 and 1/2 Tablespoons soy sauce
1 and 1/2 Tablespoons Worcestershire sauce
10 fresh chicken drum sticks
1/2 Tablespoon fresh ground pepper
Preheat your oven to 325 degrees F. Combine sugar, orange juice, orange zest, tomato paste, red wine, soy sauce and Worcestershire sauce in a medium sauce pan. Bring to a boil. Lower heat, and simmer for 5 minutes, stirring occasionally.
Spread the chicken drummies in a roasting pan or large casserole pan large enough to accommodate a single layer.  Sprinkle the freshly ground black pepper over the chicken and top with the orange sauce. Bake for 2 to 3 hours, basting and turning the pieces occasionally, until chicken pieces are sitting in a thick, sticky glaze. This chicken is fantastic served hot, warm, or even cold the next day.
*KITCHEN TIP: Do you use wine in your cooking almost daily? I do. I have two vintage glass decanters on my counter containing wine from bottles that were never finished. I use one for white wine and one for red. I just make sure to use up the wine in the decanters within a month. Waste not, want not 🙂
~Melissa
You may enjoy these related posts: