Print Friendly Version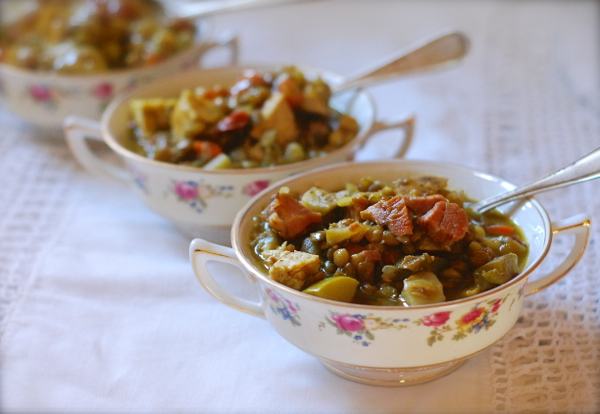 I think it was Lewis Carroll who said, "Soup of the evening, beautiful soup!" We couldn't agree more. There's nothing quite as comforting as a big pot of soup simmering on the stove all day, and fresh, homemade Parker House rolls baking in the oven. We gather in the dining room in front of the fireplace, light candles, open the front and back porch doors so the mossy, leafy autumn air can freely flow as we cuddle around the table in our sweaters and slippers and eat the delicious food that's been enticing us with it's seductive scent all day.
This is the perfect sort of soup for this type of intimate family meal or dinner party. Enjoy with a glass of bold red wine (such as a cab, malbec or old vine zinfandel.)
4 strips thick cut bacon (I used applewood smoked)
2 Tablespoons extra virgin olive oil
2 large carrots, peeled and sliced on the diagonal
2 onions (2 cups) peeled and chopped
2 small green apples, cored, unpeeled and chopped
6 stalks celery, chopped
1 medium zucchini, chopped
1 Roma tomato, chopped
2 large garlic cloves, minced
2 Tablespoons garam masala OR 1 teaspoon allspice
2 Tablespoons brown sugar
2 Tablespoons dry oregano leaves
1 teaspoon curry powder
1/2 teaspoon turmeric
6 cups chicken stock or broth (low sodium)
1/2 cup apple cider
1 cup rinsed, uncooked lentils
2 heaping cups chopped, cooked ham
4 cups cooked, chopped chicken (light or dark meat)
Cook bacon in skillet until crispy. Reserve 2 Tablespoons of the drippings, and discard the rest of the drippings. Crumble bacon and set aside for garnish.
Add the 2 Tablespoons reserved drippings back to the skillet along with the olive oil. Turn burner on medium. Once oil is hot, add the carrots, apples, onion and celery to the pan. Sautee, stirring frequently, until veggies and fruit are tender and slightly golden. Add the zucchini, tomato and garlic. Cook an additional 2 minutes, until garlic is fragrant. Add the spices and cook an additional 2 minutes.
Transfer the contents of the skillet to a heavy stock pot. Add stock, cider and lentils. Bring to a boil. Once boiling, reduce heat to a gentle, low simmer and cook with lid on stock pot slightly askew for 20 to 25 minutes (just until lentils are tender, but not falling apart.) Once lentils are done, add the cooked ham and chicken to the pot and cook just until meat is hot.
Ladle into bowls and top with the crumbled bacon bits.
Enjoy!
~Melissa
You may enjoy these related posts: