Print Friendly Version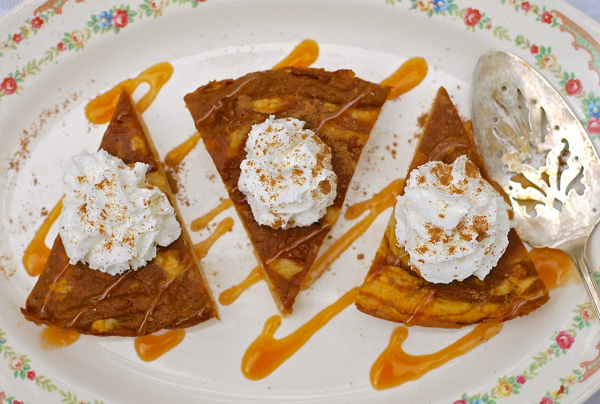 Here's an easy recipe for rich, pumpkin, white chocolate blondies. I like to make them in a pie plate because I think it makes them look a bit fancier than the traditional blondie/brownie. We like these with French press coffee or a hearty cup of black tea. They're elegant enough to serve at a formal dinner or tea party, and easy enough to make for an after-school snack or lunch box treat.
For the pumpkin swirl:
1/2 cup canned, 100% pure pumpkin puree (not pie filling)
1 large egg, lightly beaten
1 tablespoon dark brown sugar, firmly packed
1 tablespoon all-purpose flour
1 teaspoon pure vanilla extract
2 teaspoons pumpkin pie spice
Pinch of sea salt
For the blondie batter:
1 cup all-purpose flour
1/2 teaspoon sea salt
8 ounces white chocolate chips or chunks (I used Ghirardelli)
6 tablespoons unsalted butter, cut into chunks
1/4 cup dark brown sugar, firmly packed
2 large eggs, lightly beaten
1 teaspoon pure vanilla extract
Position a rack to the center of the oven and preheat to 350 degrees. Lightly oil a glass pie plate. Line it with a circle of oiled cooking parchment cut to fit the bottom.
For the pumpkin swirl: Whisk together the pumpkin puree, egg, brown sugar, flour, vanilla, pumpkin pie spice and salt until smooth. Set aside.
For the blondie batter: Mix the flour and salt in a small bowl. In a large heatproof bowl, combine the white chocolate and the butter. Melt together in the microwave using 30-second intervals, stirring well after each interval. Whisk in the brown sugar, eggs, and vanilla until smooth. Gently stir in the flour mixture just until moistened. Pour the batter into the prepared pan.
Dollop the pumpkin mixture over the batter in five or six equal portions. Use a knife to swirl the pumpkin into the batter using figure-8 motions. Bake until a toothpick inserted in the center comes out mostly dry, with a couple moist crumbs attached to it (approximately 30 minutes.) Cool completely in the pan on a wire rack before cutting into 8 wedges and serving. Remove any parchment from slices if some happens to stick to the bottom.
To serve: Place a blondie wedge on a pretty dessert plate. Drizzle with homemade or store bought caramel sauce. Dollop with whipped cream and sprinkle a little pumpkin pie spice or cinnamon over the top.
Enjoy!
~Melissa
You may enjoy these related posts: