Print Friendly Version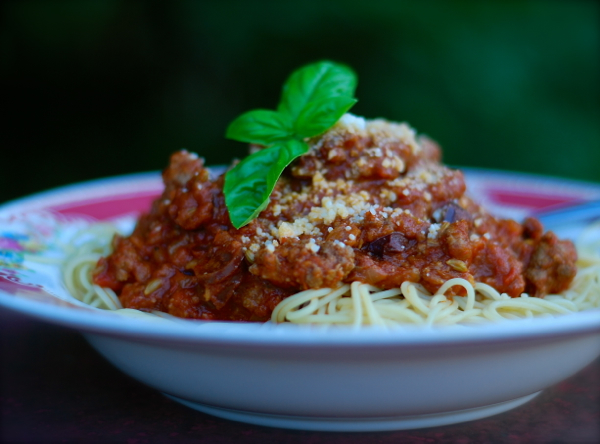 Some days you just need to get dinner on the table fast. No need to skimp on flavor while doing so. Just make up a batch of my go-to hamburger spaghetti sauce. No muss, no fuss. A tasty, healthy dinner on the table in less than 20 minutes!
2 Tablespoons olive oil
1 medium onion, chopped
3 large cloves garlic, minced
1 lb. lean hamburger
1 (28 oz.) can crushed tomatoes
1 (6 oz.) can tomato paste
1 tomato paste can full of red wine
1 Tablespoon dry Italian seasoning
*optional add-ins (see below)
1 lb. thin spaghetti or angel hair spaghetti, cooked al dente
Place olive oil in skillet. Heat over medium-high flame. Once oil is hot, add onion. Saute until tender and slightly golden. Add garlic. Cook 30 seconds. Add hamburger. Cook until no longer pink, breaking meat into small chunks as it browns. Once meat is done, drain if necessary. Add tomatoes, tomato paste, wine, and Italian seasoning. Cook until hot all the way through and slightly thickened. Serve over pasta that has been prepared according to package directions. Top with a little freshly grated Parmesan cheese, if you wish.
*Optional add-ins: 1/2 cup sliced kalamata olives. 1/4 cup chopped sun-dried tomatoes, 1/3 cup chopped fresh basil/oregano/marjoram (instead of dry Italian seasoning), 2 Tablespoons fennel seeds, 1/2 chopped red bell pepper (added when you add the onion.) The possibilities are endless! Just add what you like.
PS… To make this even easier, use your favorite jarred spaghetti sauce in place of the crushed tomatoes and tomato paste.
Enjoy!
~Melissa
You may enjoy these related posts: