Print Friendly Version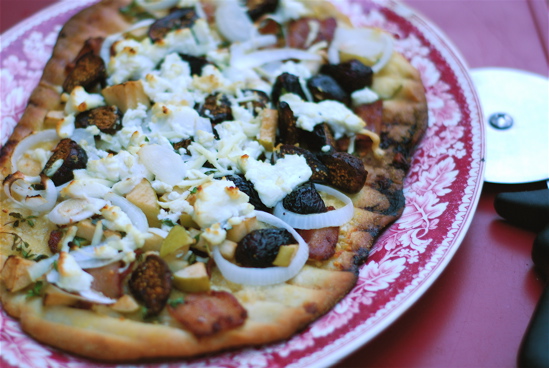 I can smell autumn in the air. The mornings and evenings have been cooler and everything sounds different. Crisper. I can hear a train passing through our downtown, and even that sounds different. It must have something to do with the humidity dropping…all of those water droplets must soften the edges of sounds.
Last night was ideal for date night on our deck. Our back yard is almost all hill. A few summers ago we built a deck that is 12 feet x 24 feet so we'd have a big, flat area to enjoy the outdoors on our property. We have two 111 year old oak trees, one in the front yard and one in the back that create a canopy over our house that was built the same year the trees were planted. The rest of our yard is surrounded by willow trees, pine trees, rose bushes, and grapevines. We sort of let it grow wild, and the result is a natural green privacy "fence" in lieu of the traditional cedar. We love it.
Anyway, the weather was divine, with that crisp, magical allure that tells us Autumn is almost here. This pizza was sort of a celebration of the anticipation of our favorite season. what is your favorite time of year?
1 grilled pizza crust (recipe can be found HERE.)
1/4 cup white pizza sauce (recipe can be found HERE.)
4 strips of applewood smoked bacon, fried until crispy
1/4 cup chevre
1/2 cup mission figs,cut in half, stems removed
1/4 cup chopped green apple
1/4 cup onion, sliced thin
1 Tablespoon fresh thyme leaves
1 Tablespoon fresh sage leaves, chopped
salt and pepper
2 Tablespoons real maple syrup
romano cheese for grating over top
Grill crust according to directions indicated above. Once you flip the crust, place all ingredients, except the maple syrup and romano cheese, evenly over crust in the order listed above. Cover grill and cook until crust is crispy and golden, all of the ingredients are warm and the cheese is melty. Drizzle maple syrup over pizza and grate a little romano cheese on top.
Enjoy!
~Melissa
You may enjoy these related posts: