Print Friendly Version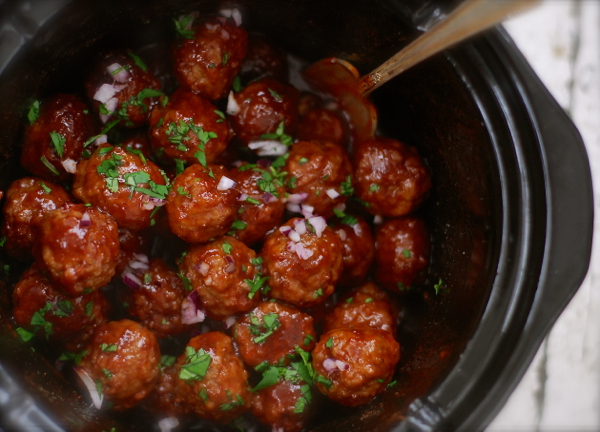 This is a recipe I've been making for ages, and it's always a hit. We love to serve these on holidays (Super Bowl Sunday, included.) You can feel free to use apricot or peach preserves in place of the grape jelly, and chipotle powder in place of the smoked paprika if you like spicy! Once in awhile I substitute bottled BBQ sauce or chili sauce for the ketchup. It's a forgiving recipe and versatile too!
I provide the easy recipe with already made, frozen meatballs and the more complicated, homemade version. Do whatever you like, these are awesome both ways.
2 lb. frozen meatballs or homemade (see recipe below)
1 cup ketchup (we use Simply Heinz)
1 cup grape jelly (we use Welch's Natural)
2 heaping Tablespoons sriracha hot sauce (or your favorite)
2 teaspoons chili powder
1 teaspoon smoked paprika
1 teaspoon onion powder
1 teaspoon garlic powder
Place frozen or homemade meatballs in the crock of a 4 quart slow cooker. If they're frozen you don't have to thaw them first. Mix the rest of the ingredients in a medium mixing bowl and stir until combined well. Pour over the meatballs in the slow cooker/Crock Pot. Toss to coat meatballs with the sauce. Cover and cook on HIGH for 3 to 4 hours or LOW for 6 to 8. Garnish with chopped green or purple onion and/or chopped parsley.
for homemade meatballs:
2 lb. lean ground beef
1 cup dried, unseasoned bread crumbs
1/2 cup Parmesan cheese (the powdered type)
2 large eggs, beaten
1 small onion chopped very fine
1/2 teaspoon sea salt
1/2 teaspoon freshly ground black pepper
milk
1/4 cup vegetable oil for browning, divided
In a large mixing bowl, combine all meatball ingredients using enough milk to make the meatballs come together. Mix well, using your hands. Form into 1 and 1/2 inch meatballs.
Heat 2 Tablespoons of the oil in each of 2 large, heavy skillets. Place meatballs in hot oil in one layer. Brown meatballs in hot oil, turning so browned on all sides but not cooked all the way through (3 minutes or so.)
Place in slow cooker, pour the sauce over and gently toss to coat. These meatballs are much more fragile than the frozen type so be careful not to break them. Cook as indicated above.
Enjoy!
~Melissa
You may enjoy these related posts: