Print Friendly Version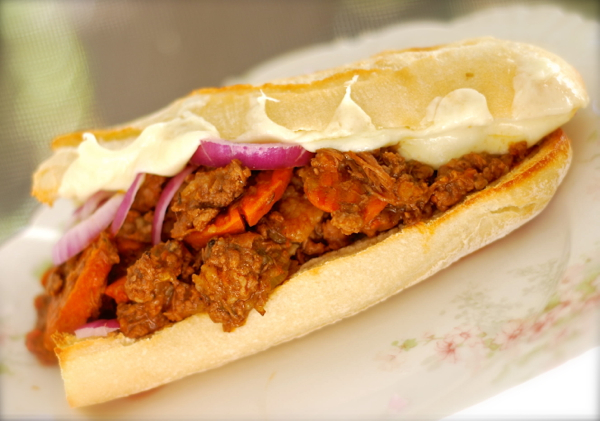 If you have leftover beef stew or pot roast you have the perfect filling for these amazing sandwiches! I had about 6 servings of leftover stew in my freezer and as I was thawing it out I realized that most of the beef was gone, so I added a pound of cooked lean ground beef to it. This impromptu recipe turned out so good I just had to share it with all of you.
for 6 sandwiches:
2 long baguette loaves, split horizontally
6 cups of your favorite beef stew or pot roast with veggies and drippings
1/2 to 1 lb. cooked, lean ground beef (if needed)
16 oz. thinly sliced Monterey Jack cheese
thinly sliced purple onion
sea salt and freshly ground black pepper, to taste
Cut each long loaf into 3 pieces (so you have enough for 6 sandwiches.) Toast baguette with the cheese slices placed on the top half of the split loaves (approximately 6 to 8 minutes in a 400 degree F. oven)
Plate bread and top the bottom half of each sandwich with approximately 1 cup of heated beef stew. Salt and pepper to taste. Top with sliced onion and the cheesy half of the baguette tops.
You'll need a fork and knife for these delicious, messy sammies!
Enjoy!
~Melissa
You may enjoy these related posts: