Print Friendly Version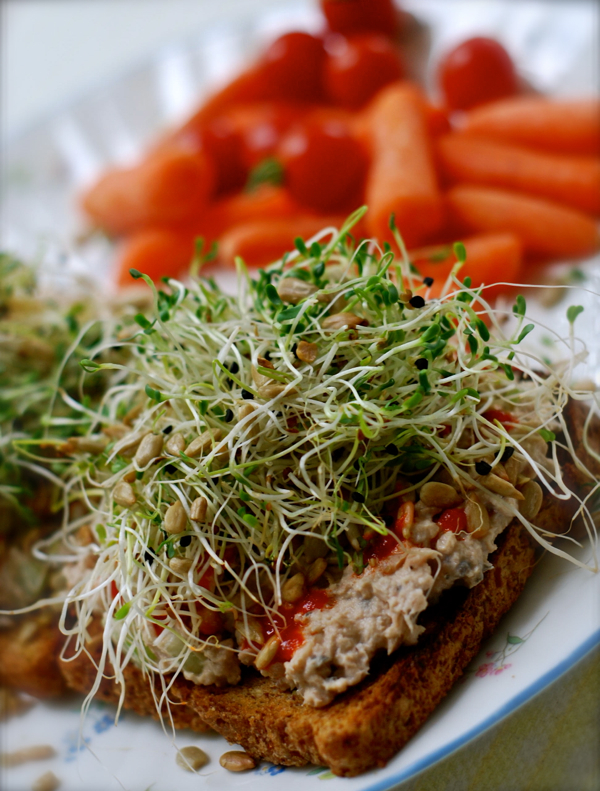 It seems like whenever I see a sandwich with California in the title, it has a heap of sprouts on it… so I thought I'd follow suit. This is one of my favorite, healthy "go to" lunches when I'm in a hurry and craving protein. I love this served with baby carrots and grape tomatoes and/or Terra Chips.
serves 4:
4 slices Ezekiel bread, toasted and drizzled with a little olive oil
1 (15 oz.) can good quality, wild salmon, flaked
1/3 cup Vegenaise
1 Tablespoon ponzu sauce
1/4 teaspoon garlic powder
freshly ground black pepper, to taste
1/2 cup sunflower seeds
Sriracha hot sauce
alfalfa sprouts (or your favorite)
lemon wedges for squeezing over sandwich (optional)
Place each of the slices of toast on separate plates. In a mixing bowl, combine: salmon, vegenaise, ponzu, garlic powder and pepper until evenly mixed. Divide the salmon salad between the 4 slices of toast, spread evenly and flatten a bit with a fork. Top each open face sandwich with a sprinkling of sunflower seeds (approximately 2 Tablespoons each), followed by a drizzle of Sriracha and a generous heap of sprouts. Squeeze a little fresh lemon juice over each sandwich, if you wish.
Enjoy!
~Melissa
You may enjoy these related posts: