Print Friendly Version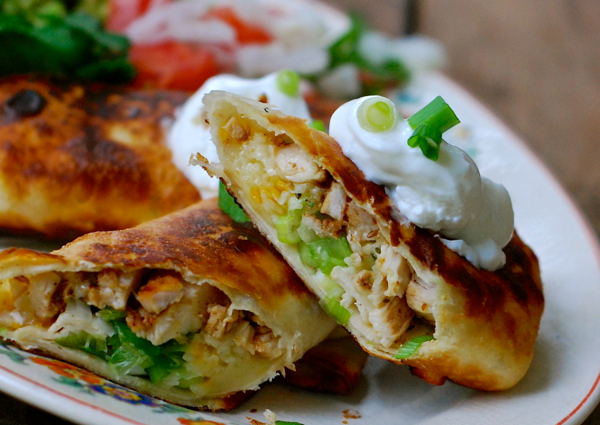 So, I know that the title of these chimis is "grilled chicken" chimichangas… but, you don't have to grill the chicken if you don't want to, or don't have the time. Grilling the meat really does add a yummy depth to the flavor of these, but do what ya gotta do.
You can use rotisserie chicken if you're really in a hurry and the chimichangas will still taste fantastic! Season the meat with cumin, cinnamon, garam masala, onion powder, and other seasonings, if you wish.
for the chicken marinade:
2 Tablespoons olive oil
2 Tablespoons cumin
2 teaspoons cinnamon
1/2 teaspoon garam masala
2 teaspoons onion powder
2 Tablespoons Mrs. Dash Garlic Herb mix
1/4 cup apple cider vinegar
2 Tablespoons honey
Combine all marinade ingredients in a large, heavy duty Ziploc bag. Add 3 large, boneless skinless chicken breasts. Marinate for 2 to 24 hours in a refrigerator. Grill or cook until juices run clear and chicken is completely cooked through. Shred meat and set aside.
For Chimichangas:
3 large boneless, skinless chicken breasts, seasoned, marinated, cooked and shredded
12 (8 inch) flour tortillas
12 oz. shredded Monterey Jack cheese or Pepper Jack cheese
8 green onions, chopped
vegetable oil for frying
toppings:
plain greek yogurt OR sour cream
shredded lettuce
chopped cilantro
hot sauce (your favorite)
Spoon cooked, shredded chicken onto tortillas. Top with about 3 to 4 Tablespoons shredded cheese and a sprinkling of green onions. Roll up, burrito-style. Heat  1 inch of vegetable oil in a heavy skillet over medium-high heat. Add the rolled up chimichangas and fry until golden brown, rolling and flipping as needed so they get evenly cooked without burning. Serve with desired toppings. This recipe will serve 8 to 10 people.
Enjoy!
~Melissa
You may enjoy these related posts: