Print Friendly Version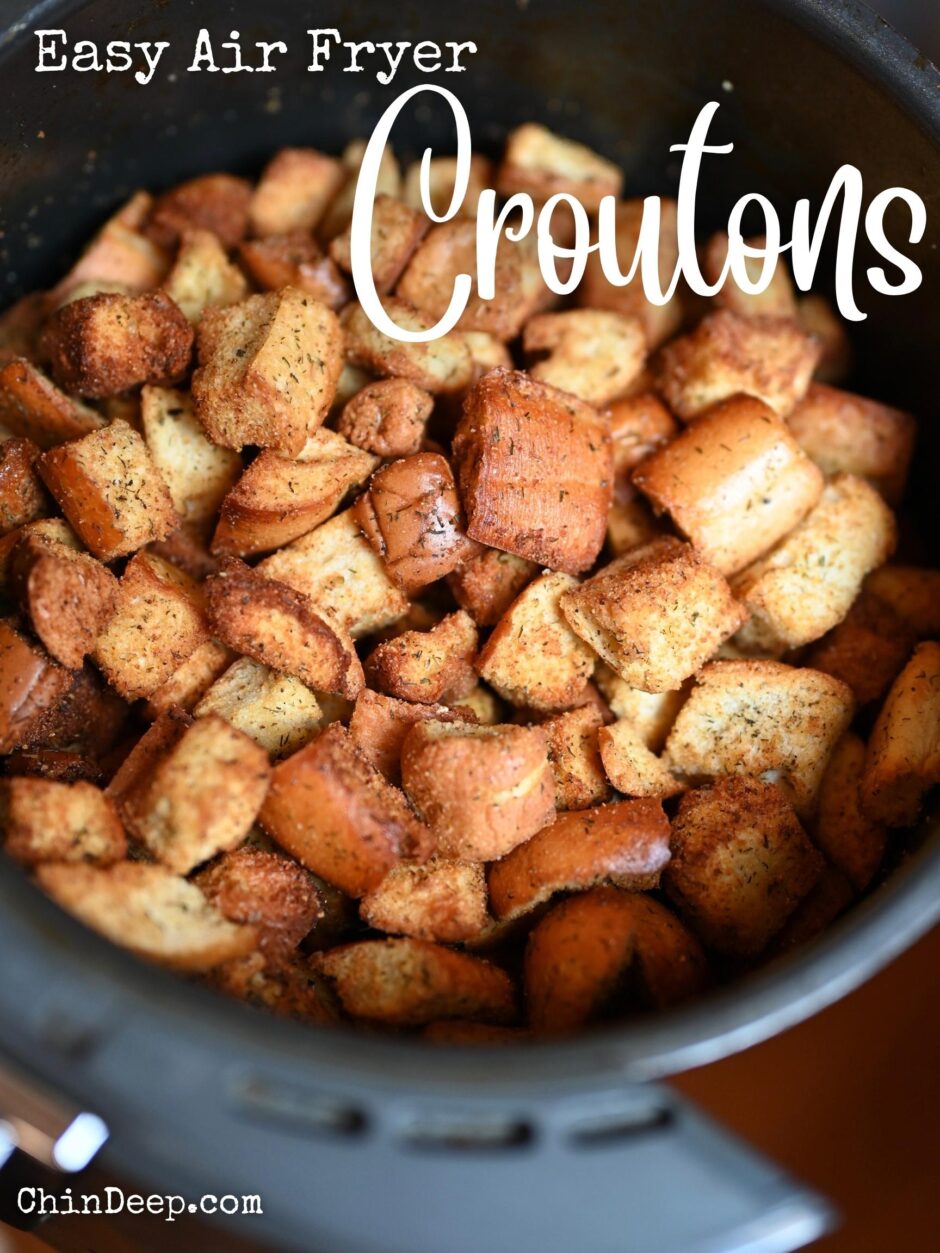 Super crunchy, super delicious, super EASY, air fryer croutons!
Once you make croutons this way, I doubt you'll ever go back to baking them in the oven. This is faster, and way more efficient. No need to heat up the entire oven and no need to wait for anything to preheat. Got 12 minutes? That's all the time it takes to make a big batch of delicious croutons!
The secret ingredient to stellar croutons is using hamburger buns or hot dog buns. I'm serious! The sugar content makes them caramelize and crisp up perfectly, and the slight sweetness is a nice contrast to the savory olive oil and seasonings you'll use to flavor these amazing air fryer croutons.
Use these croutons anywhere you would usually use croutons… Soups, salads, or just as a crunchy snack. They're so good!
For one big batch of Air Fryer Croutons:
4 big hot dog buns or hamburger buns
1/4 cup olive oil
1 teaspoon dry oregano
1 teaspoon dry dill
1 teaspoon garlic powder
1 teaspoon onion powder
1/4 teaspoon smoked paprika (optional)
1 teaspoon Lawry's seasoned salt
a few grinds of fresh black pepper
Cut the buns up into uniform, bite size cubes. Place them in a large mixing bowl. Drizzle the oil over the bread cubes and gently toss to evenly coat the cubes with the oil. Sprinkle the remaining ingredients over the bread cubes, and gently toss, using your hands, until the bread is evenly coated with the seasonings.
Place prepared bread cubes in the bowl of a large air fryer. Air fry at 325 degrees F. for 12 minutes, checking and gently tossing every 2 minutes so the croutons brown evenly and so they don't burn.
Once the croutons are a deep golden brown and crunchy, remove from air fryer and allow them to cool on a cookie sheet or parchment-lined counter. Cool completely. The croutons will get even crunchier as they cool. Store in an air tight container at room temperature, for up to a week.
Enjoy!
~Melissa
You may enjoy these related posts: