Print Friendly Version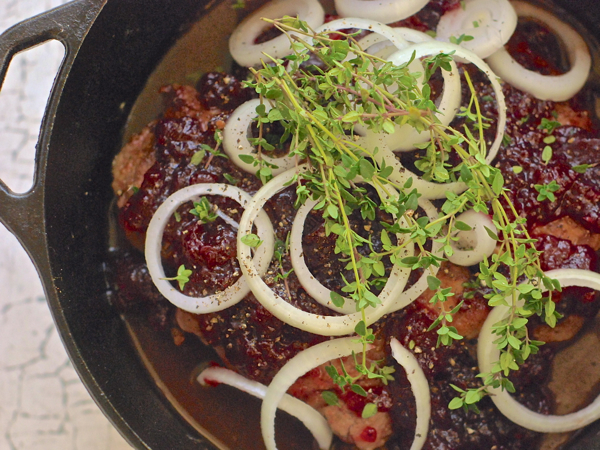 Are you ready for easy dinner fare that's easy on your pocketbook and totally AWESOME? I am always amazed what a few hours and a Dutch oven can do for inexpensive cuts of meat. This elegant, amazing steak is the perfect example. Make up a pot of your favorite mashed potatoes and a crispy green salad to serve alongside this dish. It's absolutely fancy enough to serve to company.
~ preheat oven to 350 degrees F. ~
4 lb. round steak or tenderloin steaks (at least 1 inch thick)
2 cups flour
salt and pepper
4 to 8 Tablespoons butter
1 large onion, sliced and separated into rings
1 (15 oz.) can whole cranberry sauce
1/2 can of dry red wine (use can from the cranberries)
1/2 can of water (use can from the cranberries)
3 Tablespoons quick cooking tapioca
3 Tablespoons Worcestershire sauce
1 Tablespoon Dijon mustard (I used French's Chardonnay Dijon)
3 large cloves garlic, minced
2 Tablespoons fresh thyme leaves + sprigs
Place flour, salt and pepper in a bowl and mix it up. Cut large steaks into single serving size pieces (approximately 6 to 8 oz. portions.)
Heat butter in the bottom of a cast iron Dutch oven. Dredge steaks in flour mixture, covering all sides well. Once butter is hot, place a couple of the steak portions in the butter. Sear on both sides just until golden brown (approximately 2 minutes per side.) Once steaks are browned, transfer them to a platter and brown the rest of the steak portions. Add all browned steaks back to the Dutch oven.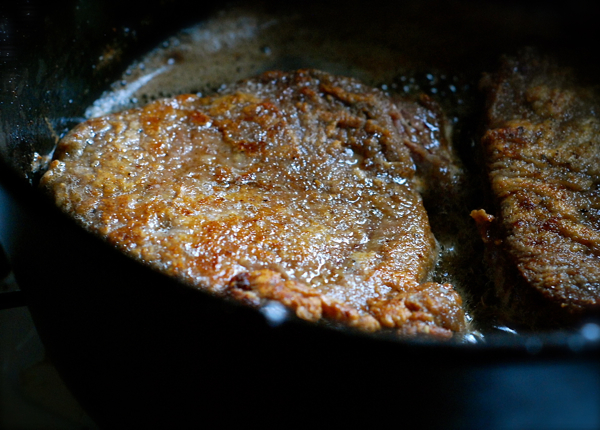 Mix the cranberry sauce, wine, water, tapioca, Worcestershire sauce, Dijon, and garlic. Pour over the steaks. Top steaks with onion rings and fresh thyme. Sprinkle on a little more salt and pepper. Cover Dutch oven with heavy cast iron lid. Bake in oven at 350 degrees for 2 to 3 hours or until the steaks are very tender and falling apart. Serve with mashed potatoes, candied carrots or sweet potatoes, and a yummy salad.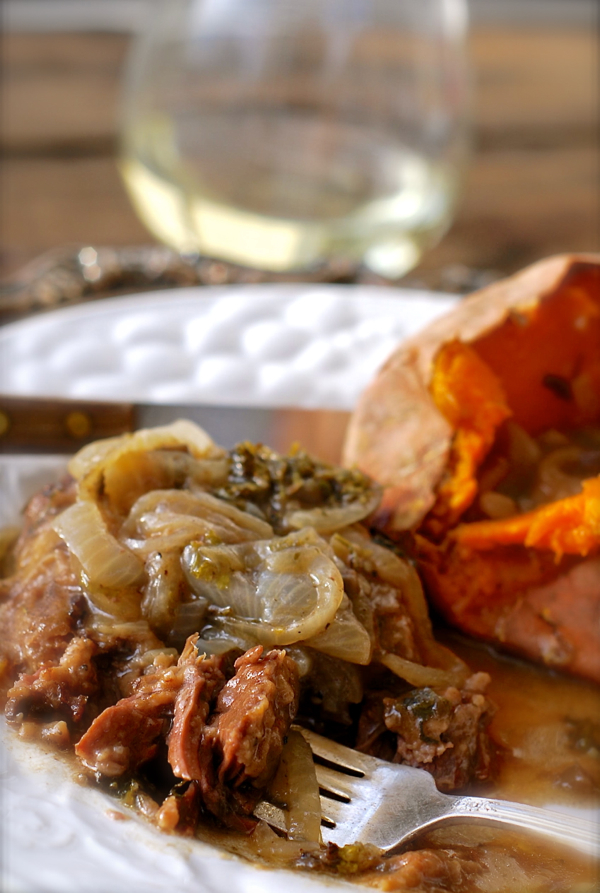 Enjoy!
~Melissa
You may enjoy these related posts: