Print Friendly Version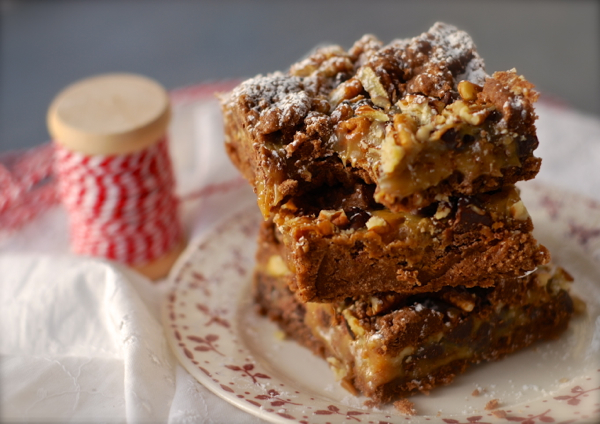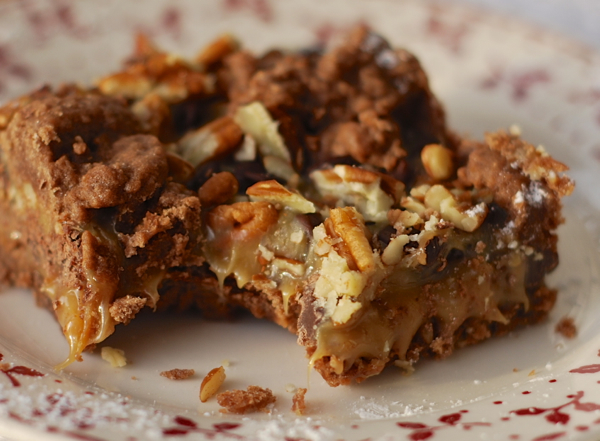 These are one of our "must make" holiday treats every year. They're chocolaty, caramely, nutty and gooey. In short, perfect. There are a lot of recipes for German Chocolate bars out there, but my addition of extra chocolate chips and extra pecans make these the ultimate. I also make sure to buy the super moist version of German chocolate cake mix with pudding added. It makes all the difference! These are the perfect accompaniment to a cup of French press coffee, hearty black tea, or milk!
~ preheat oven to 350 degrees F. ~
14 oz. individually wrapped caramels, unwrapped (I use Kraft)
1 (14 oz.) can sweetened condensed milk (not low fat)
1 (18 oz.) box moist "pudding in the mix" German chocolate cake mix (I use Pillsbury)
3/4 cup butter, melted + more for greasing cake pan
1 large egg, lightly beaten
1 teaspoon vanilla extract
2 cups semi sweet chocolate chips (I use Nestle Toll House)
2 heaping cups chopped pecans
Butter a 9 x 13 glass cake pan.
In a medium saucepan, very slowly melt the caramels along with the sweetened condensed milk. Stir constantly and watch closely so the caramel doesn't burn. Cook just until melted and remove mixture from burner.
In a large mixing bowl: Combine dry cake mix, melted butter, egg, and vanilla until mixed well. Spread 3/4 of this mixture into the prepared cake pan, patting it into an even layer with your fingers. Bake for 7 minutes in preheated oven. Remove from oven. Cover evenly with the caramel, then the chocolate chips, then the nuts. Sprinkle little crumbles of the remaining cake mix over the top. Bake for 10 to 12 minutes.
Cool completely in the pan before cutting into 24 squares.
Enjoy!
~Melissa
You may enjoy these related posts: