Print Friendly Version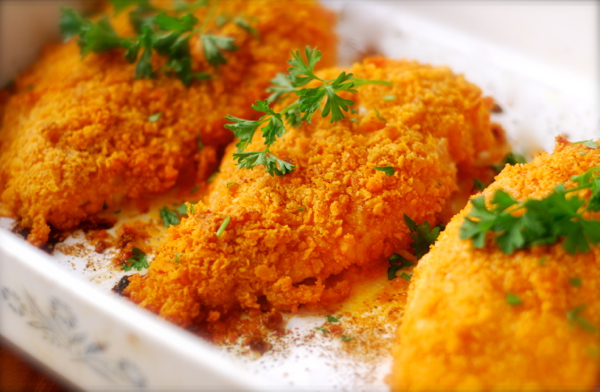 Who loves Cheez-Its? We do! They're my daughter Gracie's favorite snack, so we always have a box of them in the house. This is such a great recipe. It's easy with minimal, yet tasty, ingredients! The perfect week night meal!
PS… Marinating the chicken in buttermilk makes it extra moist and tender!
~ preheat oven to 400 degrees F. ~
~ serves 3 to 6 ~
1 cup buttermilk
3 large boneless skinless chicken breasts
2 cups crushed Cheez-Its
garlic powder
3 Tablespoons butter, melted
fresh parsley for garnish
Place buttermilk and chicken in a medium mixing bowl and refrigerate for one to 6 hours.
When ready to cook: Place Cheez-Its in a Ziploc bag and remove as much air from the bag as possible. Seal. Using a rolling pin or wine bottle, crush Cheez-Its to a fine powder. Place crumbs in shallow bowl.
Remove chicken breasts, one at a time, and shake gently so excess buttermilk drips off. Place in Cheez-It crumbs. Turn to coat, pressing crumbs to chicken as needed. Repeat and place in greased baking dish as you go. Sprinkle a little garlic powder over all the coated chicken breasts and then drizzle each piece of chicken with 1 Tablespoon of the melted butter. Bake, uncovered, in preheated oven for 30 minutes or just until fully cooked and juices run clear when a piece of chicken is cut into.
Plate and garnish with fresh parsley sprigs.
Enjoy!
~Melissa
You may enjoy these related posts: