Print Friendly Version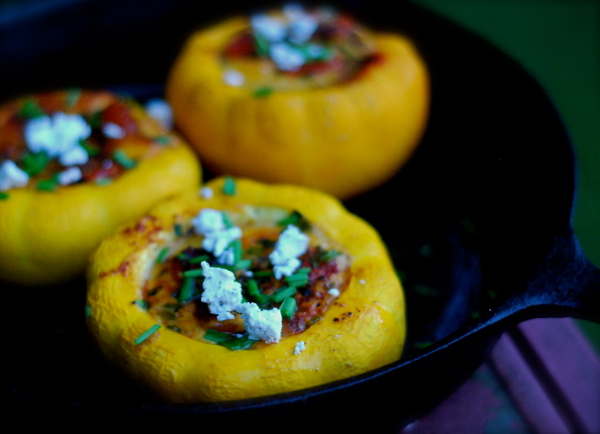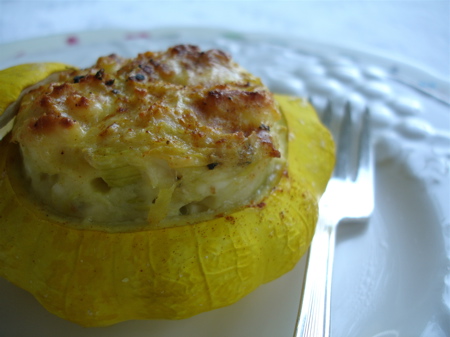 ~pattypans~
Have you ever seen these cute little squash with the scalloped edges and wondered what they were? My friend Cami and I both discovered these little gems this year and found yummy recipes for how to use them. They are actually very easy to cook with as the baby pattypans are so tender you don't need to remove the skin or seeds when you eat them. Just cook them up as they are.
My recipe is for stuffed golden scallopini pattypans, which I will share first. Cami's recipe is for Southern Pattypans in which you cube the pattypans up with other veggies. I hope you enjoy them both!
~stuffed golden scallopini pattypans~
preheat oven to 350 degrees F
(serves 6 as a side dish)
6 golden, baby pattypans (about as big as the palm of your hand)
2 Tablespoons butter
2 large cloves fresh garlic, minced
3 green onions, chopped (with a little green added)
1 large egg, beaten
2 Tablespoons flour
2 oz. feta cheese, crumbled
sliced cherry tomatoes and chives as garnish (optional)
salt and pepper
smoked paprika
Grease a glass cake pan or cast iron skillet. Gently remove tops of pattypans with a sharp pairing knife (reserve tops.) Scoop out the insides of the pattypans, leaving a thin wall, and place the scoopings on a cutting board and chop them up along with the green onions. Mince the garlic. Heat butter in a skillet and add the squash mixture along with the onion and garlic. Saute until soft. In a small bowl, beat egg. Stir in flour, crumbled feta and the cooked squash mixture. Stuff the pattypans. Place in the cake pan, setting the tops in the pan alongside them. Sprinkle with salt, pepper and paprika. Bake 45 minutes to an hour. About half way through the cooking time, check the patty pans. If they seem watery, gently tip them, allowing some of the moisture to run out. They're done when the filling in the middle is firm and the tops are golden brown and slightly puffed. We served these with Curried Tandoori Chicken that was cooked on the grill and Parmesan Herb Couscous.
We're big into gardening.  We love to grow as much of our own food as possible, so during the summer, we eat fresh and spend a great amount of energy preserving (canning, dehydrating, pickling, etc.) as much of our harvest as possible.  There is NO busier time of the year for me than late summer and early fall.  This time of year, I'm pretty much chained to the kitchen.  I'm not complaining, but it sure is nice outside…..
Wait, I digress…..
We also enjoy visiting the local farmer's market.  It helps fill in where our garden left off.  For example, my beets didn't do very well this year, and….
WAAAAIT!!!  The purpose of this post is to share the fabulous farmer's market discovery we made this past week…. Pattypan squash.
I've never grown (or even eaten) this yummy little number, so when I met this lovely older couple at the farmer's market selling this funny looking stuff, I was tempted to keep on walking.  But they were so darn nice, and I liked talking with them about their garden and this fantastic little squash they were sure I'd love as much as they do.
Anyway, we came home with one lonely little pattypan squash that I honestly had no idea what to do with.  I went on sage advice from the lady we bought it from along with a great internet search for pattypan recipes and stumbled upon this absolutely delicious treat.  So, I'm sharing it with you!!
Next year, we'll be growing pattypan squash.  Oh, and I'm going back this week to the farmer's market to get some more!  I hope you enjoy it as much as I did!!
~Southern Pattypan Squash ~
1/2 cup chopped onion
1/2 cup chopped bell pepper (I like ORANGE!)
2 cups cubed pattypan squash (yes, really… skin and all, no special tricks here!)
2 medium tomatoes, quartered or smaller
2 Tbsp. butter
2 tsp. sugar
1/4 tsp. black pepper (who measures?!  GO CRAZY!)
1 tsp. salt
1 tsp. flour
Saute onion & pepper in butter until tender.
Stir in salt, pepper, sugar & flour.
Add squash & tomatoes.
Simmer only until tender.
 Top with grilled chicken breast and make a meal of it!!!
Thanks so much for the recipe, Cami!
Enjoy your pattypans…
~Melissa
You may enjoy these related posts: