Print Friendly Version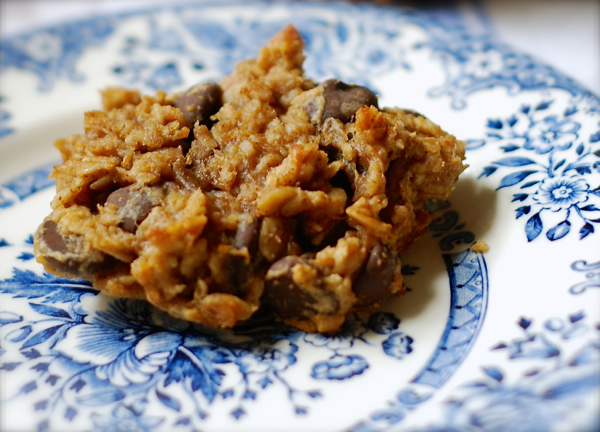 Okay. These cookies are too good to be true. That doesn't happen very often in the land where something is: egg free, gluten free, and dairy free. They're super soft, chewy, and delicious. They're loaded with dark chocolate (which we all know is health food.) They're pretty high in protein for a cookie because of the peanut butter content. And… they call for an entire cup of mashed ripe bananas, which means you don't have to make another loaf of banana bread when you go overboard buying bananas. Not that banana bread is bad, but it's nice to have choices.
It's pretty safe to say that these cookies are healthy. I'd say even healthy enough to eat for breakfast. They're for SURE better for you than about 99% of the weird, sugary cereals and sausage-laden sandwiches out there masquerading as food. Just sayin' 😉
Which brings me back to my first statement: too good to be true. It does happen sometimes. Apparently.
Oh, and did I mention they're ridiculously easy to make? Yeah. You need these cookies in your life.
~ preheat oven to 350 degrees F. ~
3 large, ripe bananas, mashed
2 and 1/2 cups old fashioned, rolled oats
1 cup peanut butter (any type)
1 cup dark chocolate chips (Enjoy Life brand is exceptional)
1/4 cup raw honey
2 teaspoons cinnamon
1 teaspoon baking soda
1/2 teaspoon sea salt
1/4 teaspoon nutmeg
Mix all ingredients in a large mixing bowl until evenly combined. Place heaping-Tablespoonfuls of the batter onto a parchment or silpat-lined baking sheet, 2 inches apart. Bake at 350 degrees F. for 15 minutes or until set and golden brown around edges. Cool for 5 minutes on baking sheet. Transfer to wire racks to cool completely.
Enjoy!
~Melissa
You may enjoy these related posts: