Print Friendly Version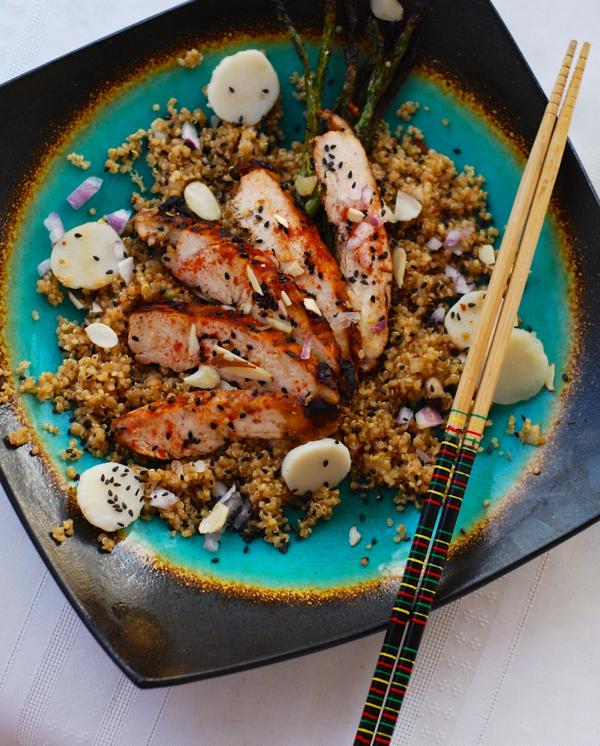 Here's a light, delicious, guilt-free dinner idea that is packed with flavor and protein. It's a nice change from all of the heavy, butter-laden fare that I'm seeing in so many comfort food dishes online these days. Enjoy it over a bed of baby spinach if you like. I just roasted up a bunch of asparagus, and it was awesome. We like to add a little drizzle of Sriracha hot sauce and a squeeze of fresh lemon juice to our salads too, but that's optional.
for the quinoa:
3 Tablespoons sesame or olive oil, divided
1 cup quinoa
2 cups veggie or chicken stock
1 medium onion, chopped
2 large cloves garlic, minced
Heat 2 of the Tablespoons of sesame or olive oil in a heavy skillet. When the oil is hot, add quinoa and stir. You will hear it pop and it will begin to smell nutty. Careful not to burn it… (maybe after 5 minutes), add 2 cups of vegetable or chicken stock. Turn heat to medium and cover for about 15 – 20 minutes. Keep stirring occasionally to make sure the quinoa doesn't stick to the bottom. It's done when it's tender and no longer crunchy.
In a separate skillet, while the quinoa is cooking, heat another Tablespoon of oil. Add 1 medium chopped onion. Saute until golden brown and fragrant. Add 2 large, minced garlic cloves and cook an additional minute. Add the onion and garlic mixture to the quinoa once it's done cooking.
for the asparagus:
~ preheat oven to 425 degrees F. ~
2 lb. fresh asparagus, tough ends snapped off
olive oil
sea salt
freshly ground pepper
Wash asparagus. Pat dry. Place in a large mixing bowl and toss with some olive oil, salt and pepper. Place on a baking sheet in preheated oven and roast until asparagus is tender and roasted to your liking (I usually let it cook about 15 minutes.)
to assemble the salad:
Place a bed of quinoa on each plate, followed by some of the roasted asparagus, cooked sliced chicken (or tear up a cooked rotisserie chicken… buy them already hot and cooked in the deli section of your grocery store.) Sprinkle some sesame seeds, toasted almond slices, chopped purple onion, and sliced water chestnuts over the top of the salad. Finish by drizzling on some of THIS awesome Oven Roasted Garlic & Sesame salad dressing, (or your favorite Asian dressing) and enjoy! This is beautiful served with a pot of dragonwell, genmaicha, or sencha green tea.
~Melissa
You may enjoy these related posts: