Print Friendly Version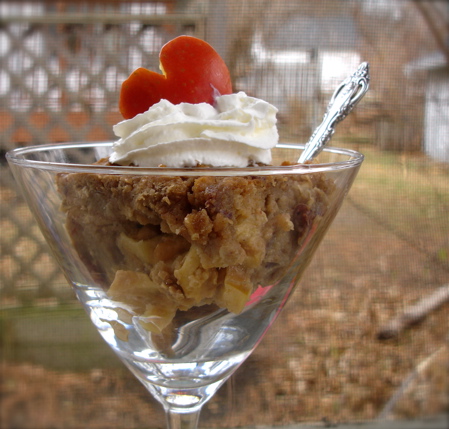 ~ caramel apple bread pudding ~
This is ooey, gooey and caramely. The perfect vehicle for bread pudding made with dry baguette. This last time I made it I didn't have baguette, and I don't particularly like wheat bread in bread pudding…but I did have a loaf of apple date bread in the freezer! I thought I'd give it a try, and the result was awesome! I will tell you that if you decided to substitute a sweet 'quick' bread for the baguette you will have to cook the pudding about a half hour longer.
2 unpeeled apples, cut into matchsticks
juice and zest of one lemon
1 day old baguette or a small loaf of quick bread, cubed
1 and 1/4 cups heavy cream of half and half
3 large eggs
1/2 cup brown sugar
1 teaspoon salt
2 teaspoons pure vanilla extract
1 teaspoon nutmeg
1 teaspoon cinnamon
1 cup caramel sauce or melted caramels
Heat oven to 325 degrees F. Place the apple pieces in a small mixing bowl and toss them with the lemon juice and lemon zest. Set aside. Butter a small, square, glass cake pan.
Cut bread into chunks and set aside.
In a large bowl, whisk cream, eggs, sugar, salt, vanilla, nutmeg and cinnamon. Add bread and toss to coat.
Spread half of the caramel sauce in the bottom of the square cake pan. Add half of the apple mixture and then half of the bread mixture. Repeat. Fill a bigger glass pan (that the square pan will fit into) with hot water so the water comes half way up the side of the smaller pan. Bake for 40 mintes (remember, longer if you use a moist quick bread.) The pudding is done when a knife inserted in the center comes clean. Transfer the small cake pan containing the pudding to a wire rack to cool. Serve with extra caramel sauce and a little rum or apple brandy infused whipped cream…and a sprinkle of nutmeg if you wish. Enjoy with a cup of your favorite coffee or tea.
Happy Teatime Tuesday!
Enjoy!
~Melissa
You may enjoy these related posts: