Print Friendly Version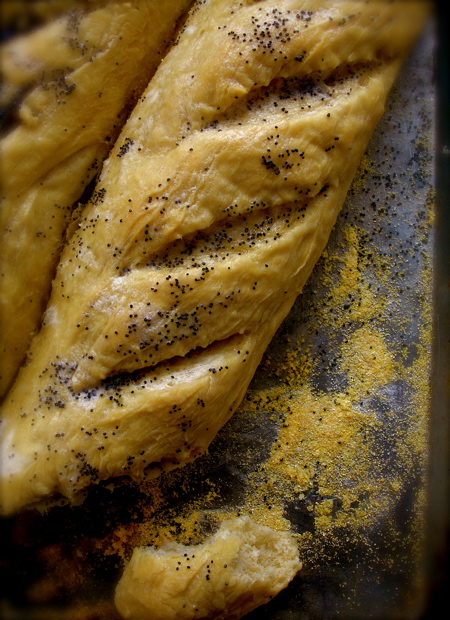 ~ french-style bread ~
"The recipe I am giving here is not truly French, and for that reason is called 'French-style.' Actually it could be called 'Continental,' because it is very much like the bread one finds in Italy, Spain and Portugal. It has also been known for many years as 'Cuban' bread. It is a casual, easy-to-make bread that can be played with several ways." ~James Beard, from his book Beard on Bread
This was a fun recipe to make. I've always wanted to make French bread, but before tackling Julia Child's recipe, I wanted to try something a little less complicated. This bread turned out wonderful! A chewy crumb with a crisp crust. I'll definitely make this again! We had the first loaf with my homemade spaghetti…and the second loaf we made into gypsy bread! fantastic!
yield ~ 2 long loaves
1 and 1/2 packages active dry yeast
1 Tablespoon sugar
2 cups, 110-115 degree water
1 Tablespoon salt
5-6 cups all-purpose flour
1/4 cup yellow cornmeal
1 Tablespoon egg white mixed with 1 Tablespoon cold water
Combine the yeast with sugar and warm water in a large bowl and allow to proof. Mix the salt with the flour and add to the yeast mixture, a cup at a time, until you have a stiff dough. Remove to a lightly floured surface and knead until no longer sticky, about 10 minutes, adding flour as necessary. Place in a buttered bowl and turn to coat surface with butter. Cover with plastic wrap and allow to rise until doubled in bulk, about 2 hours.
Punch down dough. Knead for another 10 minutes. Return to buttered bowl. Cover with the plastic wrap and allow to rise for a second time. (about 60 minutes.) when it has doubled in bulk, form into 2 loaves and place on a baking sheet sprinkled with the cornmeal. Cover a third time and allow loaves to rise for another 30 minutes. Slash with a sharp razor or knife. Brush with egg white and water mixture. Place in a cold oven and set for 400 degrees F.  Bake for 35 minutes or until golden and  the loaves are hollow sounding when tapped with knuckles.
Enjoy!
~Melissa
You may enjoy these related posts: