Print Friendly Version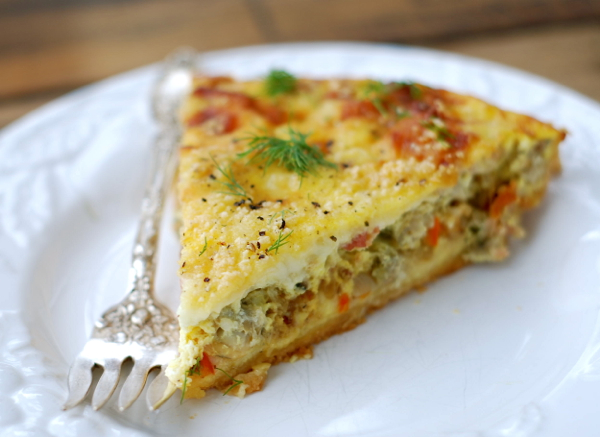 Do you love the flavors of garlicky, oniony Clams Casino? Then you're going to love this quiche too. It's wonderful for breakfast, lunch or dinner.
~ preheat oven to 350 degrees F. ~
9 inch pre-made pie crust, thawed (or homemade)
1/2 lb. bacon, fried until crispy and crumbled + 2 Tablespoons drippings
1 and 1/2 cups shredded Mozzarella cheese, divided
1 small onion, chopped
1/3 cup chopped red bell pepper
3 large cloves fresh garlic, minced
6.5 oz. can chopped clams, drained very well
4 large eggs
1/2 cup cottage cheese
freshly ground black pepper
1/2 teaspoon dry oregano
1/4 cup Parmesan cheese, grated
a little fresh dill for garnish
Prick pie crust with a fork 10 times. Sprinkle 1 cup of the shredded Mozzarella cheese in bottom of crust.
Cook bacon until crispy. Remove to plate and set aside. Pour out all but 2 Tablespoons of the bacon drippings. Saute the onion and bell pepper in the drippings until tender and lightly golden. Add garlic and cook an additional minute. Spread pepper mixture over the cheese in the pie crust. Top this with the clams and crumbled bacon.
In a mixing bowl, combine the eggs and cottage cheese. Mix well using a wire whisk. Slowly pour egg mixture over the other ingredients in the pie crust. Top everything with the remaining Mozzarella, a sprinkling of black pepper, the oregano and the Parmesan cheese.
Place quiche on a baking sheet and then place in oven. Bake for 50 to 60 minutes or until golden on top and completely set in the middle. Cool on wire rack 10 to 15 minutes before slicing and serving. Garnish with a little fresh dill if you wish.
Enjoy!
~Melissa
You may enjoy these related posts: