Print Friendly Version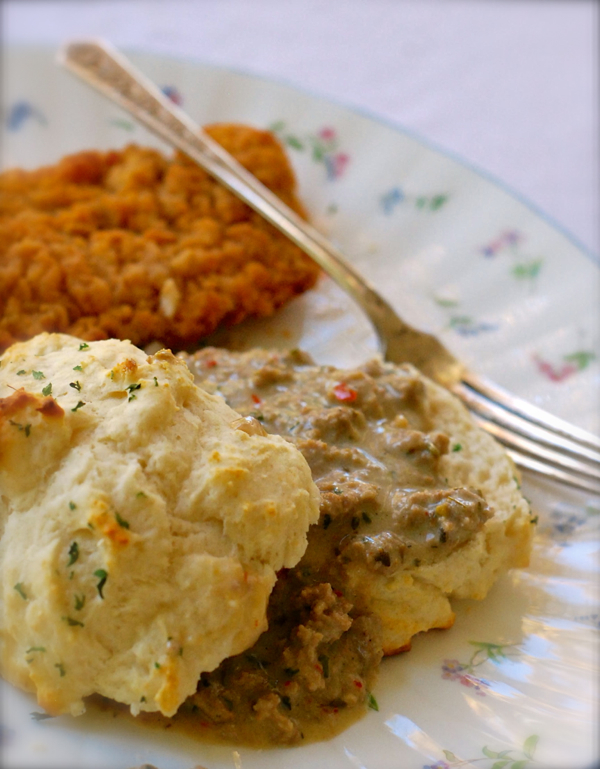 Here's a delicious breakfast indulgence that we make occasionally for a cozy, weekend meal. It's very rich and satisfying and will go wonderfully with your favorite biscuit recipe, Bisquick "drop" biscuits (which I used for this photo), or my favorite Milk Biscuits (click on link for recipe.)
for the gravy:
1/4 cup unsalted butter
1/4 cup all purpose flour
2 Tablespoons chicken stock
12 oz. uncooked turkey sausage (or other bulk sausage), casings removed if in links
1 Tablespoon fennel seeds
1 teaspoon smoked paprika
1 teaspoon garlic powder
1 teaspoon onion powder
1/2 teaspoon sage
1/8 teaspoon cayenne pepper or 1/4 teaspoon red pepper flakes
3 to 3 and 1/2 cups whole milk or half & half
Melt butter in skillet and cook on very low until it turns a deep amber color, being careful not to let the butter burn. Add flour and mix using a wire whisk for 1 to 2 minutes (until raw taste of flour is gone.) Add a splash (approximately 2 Tablespoons) of chicken stock and stir until smooth. Add milk or half & half and continue to cook over very low heat, whisking until thickened.
In a separate skillet, brown the sausage along with all of the spices listed. Cook until sausage is no longer pink. Add sausage to the browned butter-milk mixture and stir until well combined. Heat through. Split a warm biscuit (or two) per person. Spoon the sausage gravy over the biscuits. Serve.
Enjoy!
~Melissa
You may enjoy these related posts: