Print Friendly Version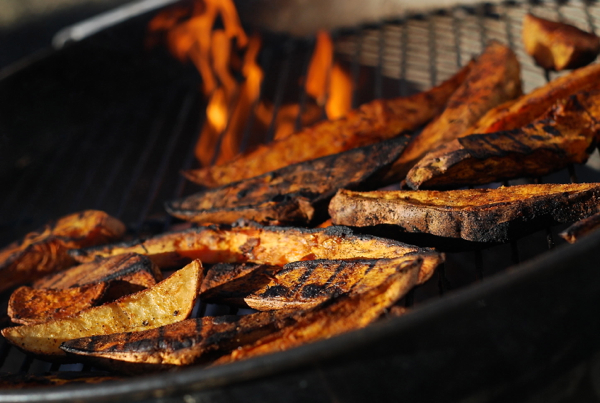 Grilled sweet potatoes are a simple, delicious side dish to serve with grilled meats or fried chicken. They take hardly any time at all so you can make them once you take your steak, chicken or pork off the grill. If you're using a charcoal grill, pile the hot coals on one side of the grill and place your sweet potato wedges on the "cool" side over indirect heat. Watch them closely so they don't cook too fast and burn. If you're making these on a gas grill, turn it to the "medium" setting. The goal is to make the sweet potato wedges golden brown and grilly on the outside and tender and creamy on the inside.
serves 3 to 4
2 medium sweet potatoes (1 and 1/2 lb)
1 Tablespoon olive oil
sea salt and freshly ground pepper
Wash and dry sweet potatoes. Slice into long wedges. Toss in olive oil. Sprinkle with salt and pepper. Grill on "cool" side of a charcoal grill or on the "medium" setting of a gas grill for approximately 3 and 1/2 minutes per side.
Enjoy!
~Melissa
You may enjoy these related posts: