Print Friendly Version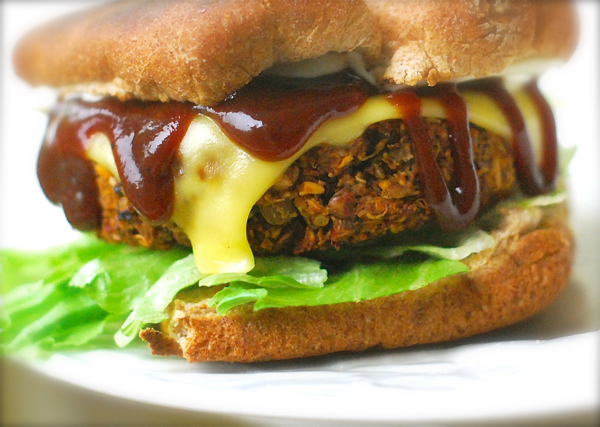 Hello friends!
I was in the mood to make some delicious veggie burgers and air fried French fries for dinner, and this is definitely one of my favorite recipes for vegan burgers.
You can fry these in oil as directed, or you could lightly brush the burgers with oil and air fry them for a lighter version that still tastes fantastic.
This recipe is great for making veggie nuggets too. Just roll the mixture into bite size balls instead of patties and serve with a variety of dipping sauces.
Okay, ready to cook some awesome veggie burgers?
2 cups cooked, mashed sweet potato
3 cups fresh spinach, chopped
3 Tablespoons fresh basil leaves or fresh oregano leaves, chopped
1 Tablespoon ground flax + 2 Tablespoons warm water
1/3 cup lentils, rinsed
1/3 cup quinoa, rinsed
1 to 2 cups vegetable stock
1/3 cup finely chopped onion
4 large cloves garlic, minced
2 Tablespoons fresh lemon juice or seasoned rice vinegar
2 teaspoons smoked paprika
1 teaspoon Lawry's seasoned salt or sea salt
freshly ground pepper, to taste
1 teaspoon onion powder
1 teaspoon garlic powder
1 cup panko bread crumbs (more if needed)
oil for frying (I use peanut or coconut)
Cook, peel, and mash sweet potato. Place in a large mixing bowl along with the spinach, basil, lemon juice, paprika, seasoned salt, pepper, onion powder, and garlic powder. Mix well to combine.
Mix the ground flax and 2 Tablespoons warm water together in a ramekin. Set aside.
Cook the lentils and the quinoa in the vegetable stock, covered, until lentils are tender and quinoa is done. I start with 1 cup of stock and add more if needed. Once the lentils and quinoa are done, strain off any excess liquid and add them, along with the flax mixture, to the sweet potato mixture.
Saute the onion and garlic until tender and slightly golden. Add them to everything else in the big mixing bowl and stir until everything is evenly combined.
Form into approximately 10 patties and coat well with panko bread crumbs. Place patties on a baking sheet lined with Silpat or cooking parchment. Chill in refrigerator for at least 2 hours, and up to 24 hours.
Remove from refrigerator and bake at 350 for 20 minutes to firm up the patties.
Once ready to eat, heat 1/4 cup oil in a large, heavy skillet. Fry patties in batches, being sure not to crowd the pan. Add more oil to the skillet as needed, being sure to let it heat up enough before adding more patties. Cook on medium high heat for approximately 3 to 4 minutes per side or until burgers are set and golden brown on both sides.
Serve on buns with your favorite burger toppings! I like them with Vegenaise, BBQ sauce, vegan cheese (like Violife cheddar), and lettuce.
Enjoy!
~Melissa
You may enjoy these related posts: