Print Friendly Version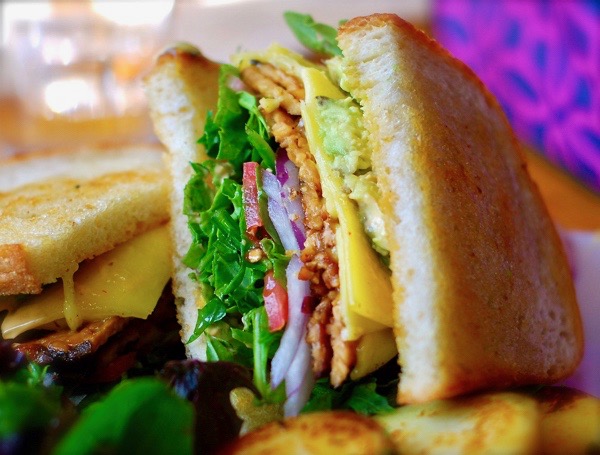 Sometimes you just have to have a big, delicious sandwich. Before going vegan one of my favorite things to order at restaurants was a giant club sandwich on sourdough. Piled with bacon, and slathered with garlicky aioli.
Now that I'm vegan, I like the same thing, but with vegan "meats" and cheeses. My favorite accompaniment to said sandwich is either home fries or salt & vinegar kettle chips. Sweet potato fries are good too. And a really good pickle is a must!
Feel free to add your favorite toppings to this sandwich. Sprouts, micro greens, tofurkey… whatever you like. When I made this I had a lot of leftover tofu "bacon" on hand so I just used it up. (Find the recipe in this post for Vegan BLTs)
For one big vegan club sandwich:
two slices rustic sourdough bread, toasted and buttered generously (with Earth Balance or Myokos vegan butter)
chipotle garlic aioli (recipe below)
baby arugula
ripe tomato, thinly sliced
red onion, thinly sliced (or pickled red onion)
your favorite vegan lunch meat (like Tofurky)
vegan bacon
Chao cheese slices and/or Follow Your Heart vegan smoked gouda
perfectly ripe avocado
Dijon mustard
Place prepared vegan tofu bacon in a skillet and heat over medium low. Once mostly heated through, top with the cheese (so it's on the bacon and not touching the pan.) Cover and heat just until cheese begins to melt. Remove from heat.
Toast and butter bread. Set one slice on plate. Top with some of the garlic chipotle aioli (I like a lot.) Stack with arugula, ripe tomato slices, red onion (or pickled red onion,) tofurkey slices, warmed bacon and melty cheese, ripe avocado, and the other piece of toast that has some Dijon mustard on it. If you don't like Dijon, you could use spicy brown mustard, horseradish, or yellow mustard (or just more of the ailoi.)
Garlicky chipotle aioli:
1 clove fresh garlic, minced
1/4 teaspoon fine sea salt
1/2 teaspoon freshly ground black pepper
1/2 cup vegan mayonnaise (Follow Your Heart Vegenaise or Hellmann's vegan mayonnaise)
1/2 teaspoon onion powder
1/2 teaspoon chipotle powder
1 teaspoon fresh lemon juice
1 teaspoon Sriracha hot sauce
Place all ingredients in a small bowl. Whisk to combine. Use immediately or cover, refrigerate, and use within a week.
Plate sandwich, cut into 4 pieces, and enjoy!
~Melissa
You may enjoy these related posts: