Print Friendly Version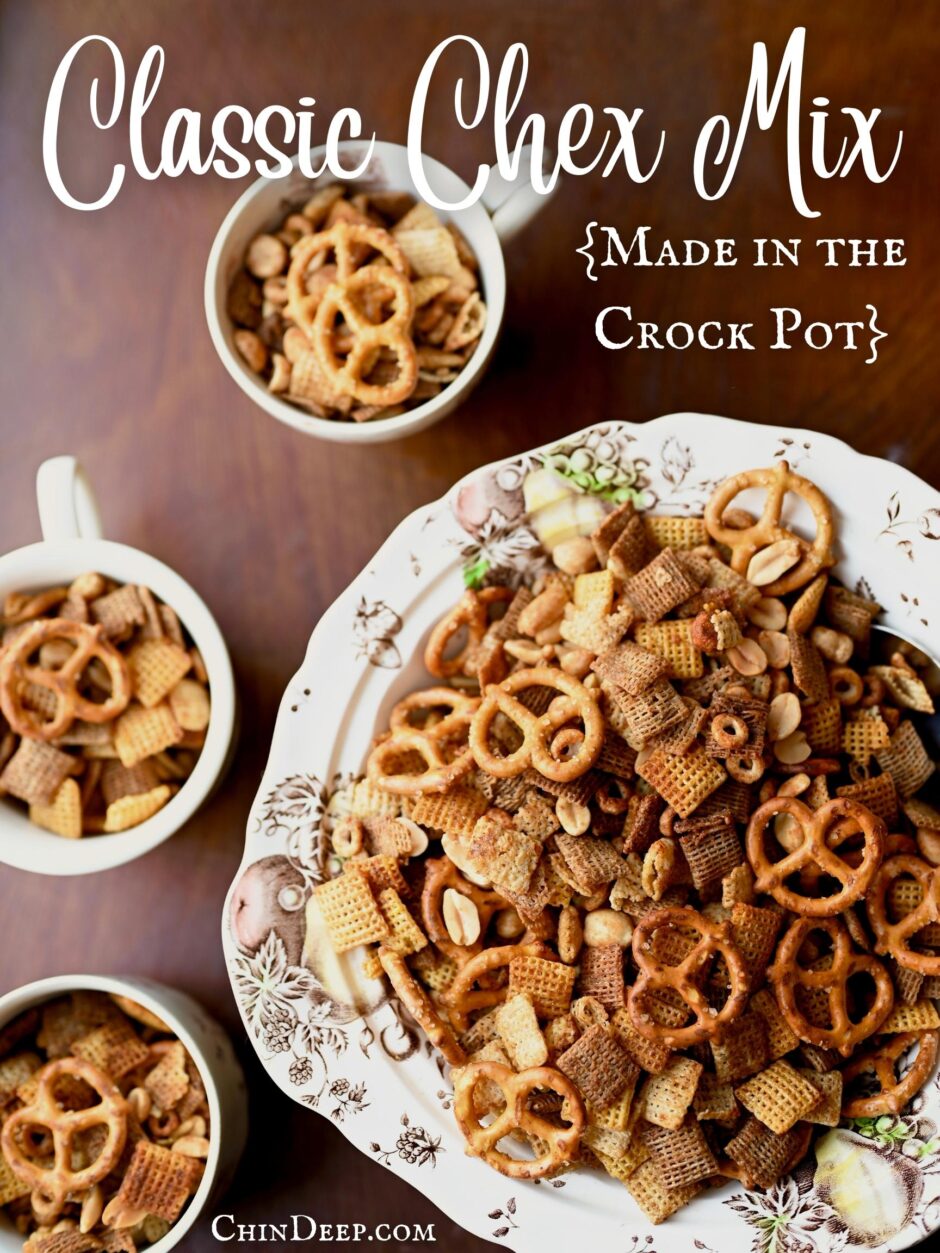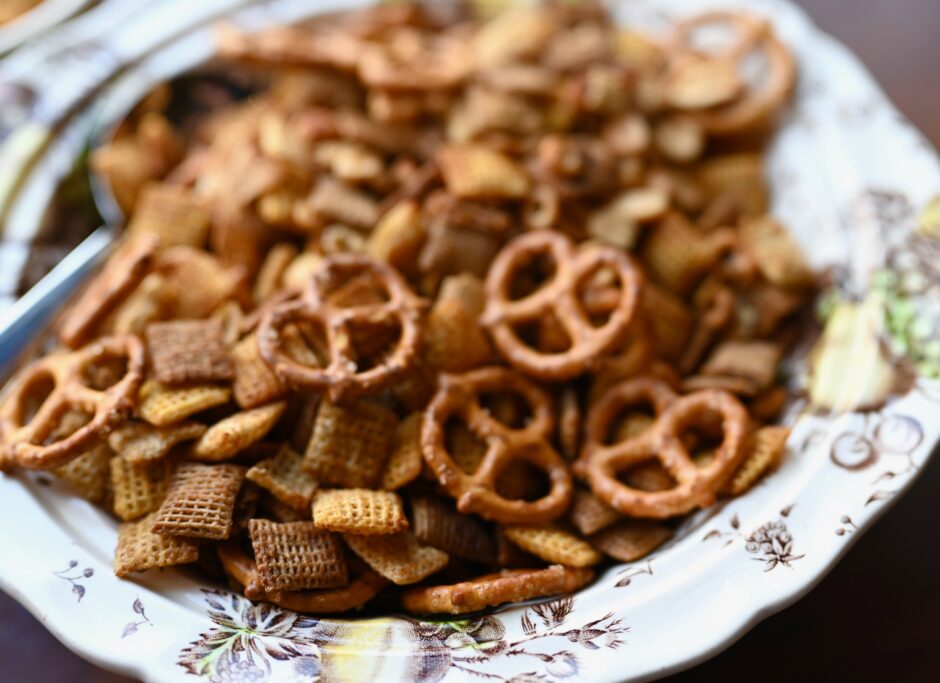 I love having bowls of Chex Mix for the sideboard, coffee table, and side tables this time of year. I put it in pretty little crystal bowls and china teacups. People love to nibble this classic snack with their wine and cheese. Some other favorite munchies and appetizers include: these New York Bar Nuts from the Union Square Cafe, toasted ravioli, Creamy Herb Bites, this cream cheese Christmas Tree with hot pepper jelly, cream cheese wontons, spicy cauliflower wings, bao buns, and countless others… but Chex Mix is a must!
I discovered that making delicious Chex Mix is even easier when you use a Crock Pot. You pretty much just dump everything in there, give it a gentle stir every hour, and the slow cooker does the rest of the work.
What are your favorite Christmas appetizers? Please leave them in the comments below.
Note to Vegans: You may already know that the Chex Mix brand cereals and Cheerios aren't vegan if you're purchasing them in the United States. They use a vitamin D3 supplement that contains lanolin (derived from sheep's wool, of all things.) Ridiculous! Anyway, you can get vegan Chex cereals in Canada. I have no idea why they have different ingredients in different countries. If you happen to live in Canada, you're in luck. Otherwise you'll have to look for a generic brand that doesn't contain the (stupid) D3. Some of the Great Value (Walmart) brand "chex" cereals are vegan. I propose we write to the people who make Chex and Cheerios (General Mills, we can see you) and complain, since you can get D3 from other sources than sheep. Not that I have any opinions about anything. lol… but I digress…
~ for one big batch of classic Chex Mix ~
3 cups corn Chex cereal
3 cups rice Chex cereal
3 cups wheat Chex cereal
2 cups mini pretzels
1 or 2 heaping cups of Cheerios cereal
2 cups lightly salted (or no salt added), dry roasted peanuts
Mix all in a very large mixing bowl. Set aside.
~ For the sauce ~
1/3 cup melted butter (I use organic Earth Balance vegan butter)
1 Tablespoon Lawry's seasoned salt
1/4 cup Worcestershire sauce (I make Martha Stewart's vegan Worcestershire)
1 teaspoon garlic powder
1 teaspoon onion powder
Place all ingredients in a small bowl and whisk to combine. Pour over the dry ingredients in the extra large mixing bowl and gently stir to combine and thoroughly coat. I do this for about a minute.
Transfer to the bowl of a 7 quart Crock Pot. Place a paper towel on top of the Chex mix, but make sure it's not hanging out the sides. I legally have to tell you that this could be a fire hazard, but I have never had any problems. The paper towel catches any condensation so it doesn't drip into your Chex mix and make it soggy.
Set your slow cooker to LOW for 3 hours. Gently stir after one hour, two hours, and two and one half hours.
Once it's done cooking, transfer the snack mix to two, large, unlined baking sheets. Allow to cool completely before transferring to air tight containers. This will keep at room temperature, for three weeks.
Enjoy!
~Melissa
You may enjoy these related posts: