Print Friendly Version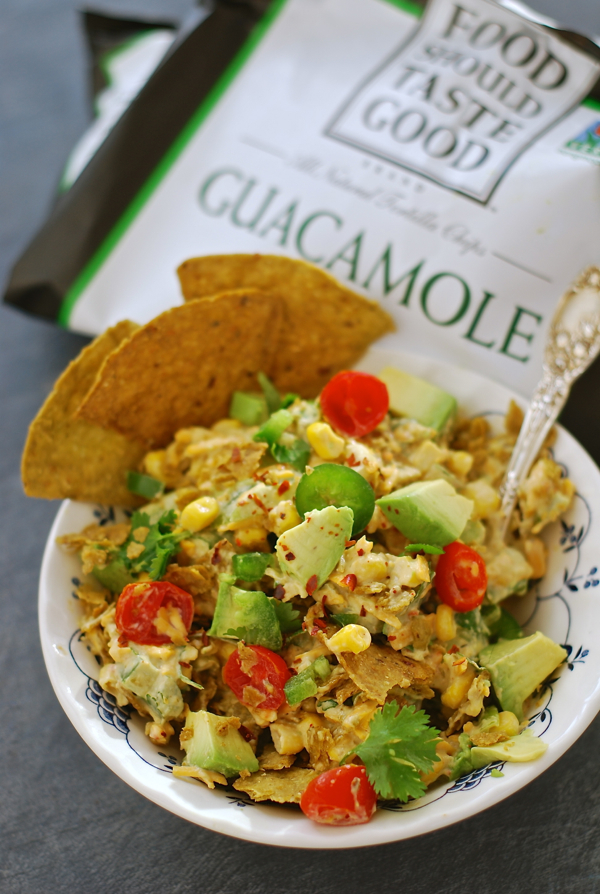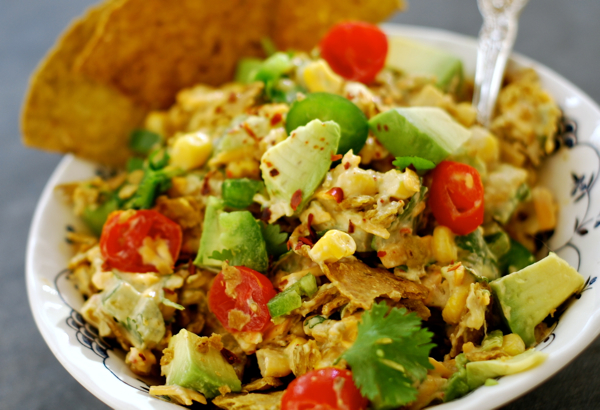 Oh my gosh! We've been out and about enjoying our weekend. The weather is fantastic (finally!) and we're soaking up every bit of sun we can get. We walked around a familiar zoo today, one I remember from childhood, and it was hot hot hot out there. It felt good to walk with the sun beating on our heads. That hasn't happened in months.
Something about summer reminds me of samba music. This song in particular. My grandma used to play it on her giant console record player, and every time I hear it I get wistful and it brings me back to the days when I was 8. Sitting on her blue shag carpet, playing with Tinker Toys and coloring in coloring books with Crayolas.
Tonight the hubby is making burgers on the grill and we're sipping some old vine zinfandel. Yum.
I made this awesome salad, inspired by all of the Frito salads out there, a couple days ago and it was gone in a flash! I used my favorite Food Should Taste Good Guacamole chips and they were absolutely perfect in this dish. I'm making it again tonight to go with our burgers. Can't get enough of this stuff.
You can either mix the crunched up chips into the salad just prior to serving, orrrr…. you can pile it into a big bowl and place the chips alongside and serve it as a dip. Either way, it's awesome. Make a bunch. I'm serious.
serves 4:
1 (15 oz.) can sweet corn, drained very well
3 green onions + tops sliced thin
1 sweet bell pepper (any color) chopped
2 jalapeno peppers, chopped fine
1/2 cup cilantro, chopped fine
20 grape tomatoes, halved
6 oz. sharp cheddar cheese, shredded
1 (5.5 oz) bag Food Should Taste Good Guacamole Chips
1 perfectly ripe avocado, cut into chunks
guacamole dressing (recipe below)
Place all ingredients, except for the chips and avocado chunks, in a large mixing bowl. Mix well. Just before serving, fold in chips, or place them on the side and serve the salad as a dip. Top salad/dip with avocado chunks.
for the guacamole dressing:
Juice of one large lime
1 teaspoon lime zest
1 teaspoon cumin
1 perfectly ripe avocado, mashed
1/2 teaspoon cayenne pepper
2/3 cup mayonnaise
1 teaspoon onion powder
1 teaspoon garlic powder
1 teaspoon dry oregano
1 Tablespoon sambal oelek, sriracha, or your favorite hot sauce
Place all ingredients in a mixing bowl. Mash up the avocado until smooth and creamy. Toss dressing with salad.
Enjoy!
~Melissa
You may enjoy these related posts: