Print Friendly Version
Hello everyone!
This is a re-post of one of my favorite "spa cuisine" recipes. Tonight I added a little extra chili powder, substituted chopped pecans for the almonds, and topped my whole wheat tortilla with some sour cream and Sriracha. Have you noticed? I like Sriracha on almost everything. The perfect zingy accoutrament.
Oh, and the reason for the re-post is the picture. Now there is one.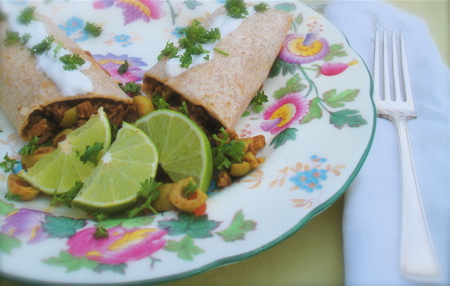 photograph by Melissa Placzek
~Latin Beef Picadillo~
Serves 4
1 Tablespoon extra virgin olive oil
1 large onion, peeled and chopped
1 clove garlic, minced
1 pound extra lean organic ground beef or bison
2 Tablespoons orange juice, a splash of white wine or chicken stock
2 Tablespoons mild chili powder
1 tablespoon cinnamon
1 cup raisins
3/4 cup slivered almonds
1 cup Spanish olives with pimentos, chopped
Juice of 1/2 lemon or lime
1 teaspoon Tony Chachere's Original Creole Seasoning or a little soy sauce
plenty of freshly ground black pepper
a dash of sweet curry powder
Heat the olive oil in a large skillet over medium heat. Add the chopped onion, garlic and ground beef/bison, stirring until onion becomes translucent (about 5 minutes.) Add juice, chili powder, cinnamon, raisins, almonds, olives and lemon/lime juice. Cook until the liquid has been reduced by half (about 2 minutes.) Season with Creole seasoning, pepper and curry. Serve over warm brown rice, whole wheat pasta, whole grain pita or whole wheat tortillas.
This dish is fantastic when paired with Trimbach Gewurztraminer.
Enjoy!
~Melissa
You may enjoy these related posts: