Print Friendly Version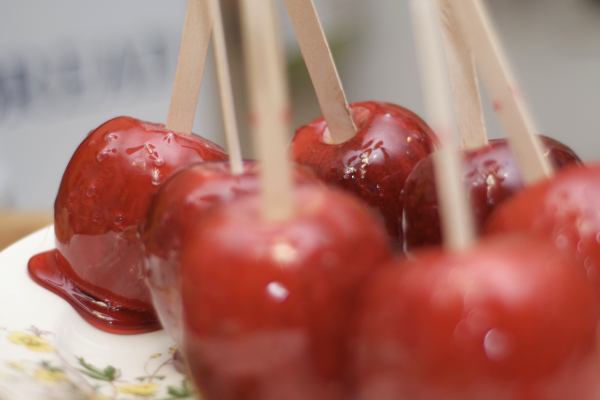 This is an old fashioned treat that I remember eating at little county fairs and around Halloween when I was younger. These really are so easy to make if you have a candy thermometer. Don't be tempted to cook the syrup too long, or you'll end up with a candy coating that is too hard to bite into.
for 6 to 8 medium candied apples:
3 cups sugar
1 cup water
1/2 cup light corn syrup
1/4 cup cinnamon "red hots" candies
1/2 teaspoon red food coloring
6 to 8 wooden popsicle sticks or chopsticks
6 to 8 medium sweet-tart apples (we love Honeycrisp for this recipe)
In a heavy saucepan, mix the sugar, syrup, candies, food coloring, and water. Place over medium heat and bring to boil. Don't stir. Clip candy thermometer on side of saucepan, taking care so the tip of the thermometer doesn't touch the bottom of the pot. Continue to cook, without stirring, until temperature reaches 290 degrees F. (This will take approximately 20 minutes.) While the candy is cooking, spray a large baking sheet with non-stick cooking spray. Remove stems from apples and insert a popsicle stick/chopstick approximately half way into each apple. When the candy has just reached 290 degrees, remove pan from heat. One at a time, dip each apple into the candy, swirling as you go until coated. Allow excess to drip off and place candied apples, a couple inches from each other, on the prepared baking sheet. Allow to cool at least one hour before eating. Cover any apples you don't eat right away, and enjoy them within two days of when you made them.
Happy Autumn!
~Melissa
You may enjoy these related posts: