Print Friendly Version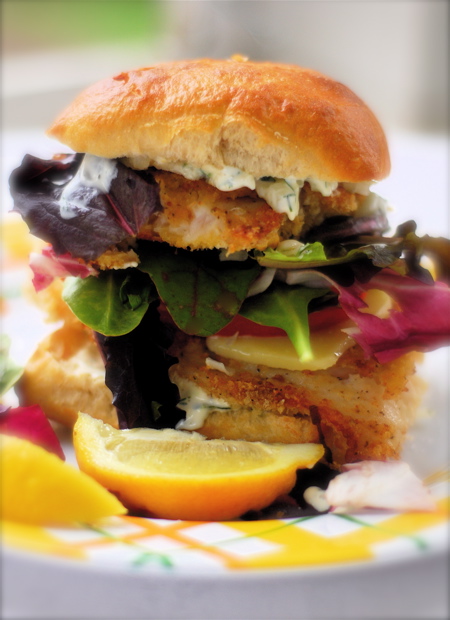 ~ fillet-o-fish sandwich ~
This is an amazing fish sandwich. I started with THIS recipe and then did some serious tweaking. The original recipe is fantastic too, but I like cheese, onion and dill on my fish sandwiches. Try it both ways and see which one you like best…or, maybe you'll do some tweaking of your own 😉
3 big pieces of whitefish (we used Swai)
light olive oil for oven- frying
for flour/egg mixture:
1 cup all-purpose flour
1 egg
1 cup milk
for panko coating:
1 and 1/2 cups panko
salt and pepper
for the lemon mayonnaise sauce:
1/2 cup mayonnaise
1/2 cup sour cream
juice of one lemon
zest of 1/2 lemon
2 Tablespoons chopped, fresh dill
1/4 cup chopped, fresh basil
1/4 cup onion, chopped fine
for sandwiches:
sourdough baguette or ciabatta
1 cup spring greens or arugula
6 slices extra sharp Vermont white cheddar cheese (we use Cabot)
1 beefsteak tomato, sliced thin
Heat oven and large jellyroll pan at 350 degrees F for 30 minutes.
Pat fish so it's very dry. Dip each fillet in the flour/egg mixture. Then dip in panko to coat. Set fillets on a plate to rest for the 30 minutes that the oven and pan are heating.
Pull sheet from oven, and pour about 1/3 cup of olive oil on the tray. Carefully place the breaded fish on the tray and sprinkle with a little more oil. Bake for 30 minutes or until fish is completely cooked through, flaky and golden.
Combine the ingredients for the lemon-herb mayo. Season to taste. Toast split baguette or ciabiatta halves in warmed oven until heated and toasty. Smear each side with lemon-herb mayo, Stack up a piece of fish, cheese, arugula, tomato and more fish and cheese if you wish. Serve with more of the mayo and lemon wedges on the side.
Enjoy!
~Melissa
You may enjoy these related posts: