Print Friendly Version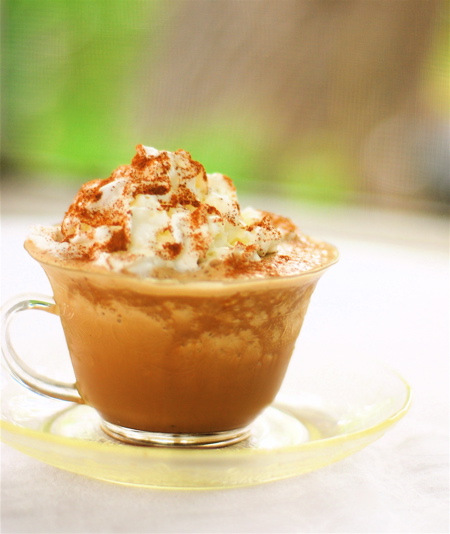 ~ frozen cappuccino ~
These little iced cappuccinos are easy to make and every bit as good as the more expensive coffee shop variety. Serve these up in clear depression glass teacups (like the one pictured above) or your favorite floral cups for a fun and fancy garden party treat!
one serving:
2 heaping teaspoons instant coffee powder (or 2 level teaspoons instant espresso)
2 heaping teaspoons sugar
1/2 cup whole milk
handful of ice cubes
generous squirt of chocolate syrup (like Hershey's)
whipped cream
cinnamon
Combine everything except the whipped cream and cinnamon in the bowl of a blender. Zip until smooth. Pour into pretty teacups. Top with whipped cream and a sprinkle of cinnamon.
Variations: add a drop of pure orange extract to the mixture and a little orange zest to the top for a orange cappuccino, or vanilla instead of chocolate…or a little mint extract and Ande's mint pieces…the possibilities are endless!
~ Entertaining Tip ~
I've used teacups and other china pieces for serving all sorts of things at gatherings, picnics and tea parties!
Try these ideas:
* for a brunch ~ fill teacups with different smoothie flavors or fruit butters! fruit butters are wonderful on biscuits, waffles, scones and toast!
* for a fondue party ~ use a different teacup for each kind of dip or sauce that you serve
* for a birthday party ~ use teacups as ice cream sundae cups!
* for a luncheon ~ make a "Crudite Bar" by using teacups to separate veggies and dips…teacups are also lovely for serving small salads such as coleslaw or fruit cups.
* use teacups to serve hot soups and bisques or chilled soups like gazpacho…and to serve a little "teacup" lunch!
* use teacups to serve chocolate mousse and other desserts
* use teacups to serve lemonade and punch for a garden party!
* use teacups to create a little window herb garden!
* use teacups for making candles!
* use china creamers/pitchers for serving syrup with waffles, scones and puffed "Dutch Baby" pancakes
* use teacups and saucers as dessert compotes as pictured HERE and HERE
*use china pieces for presenting spa treats
* use gravy boats for serving salsas and sauces
* use creamers for serving salad dressings
Enjoy!
~Melissa
You may enjoy these related posts: