Print Friendly Version
A couple easy, whimsical ideas for you…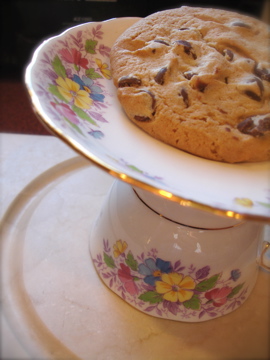 photographs by Melissa Placzek
~Teacup as Compote~
Transform old teacups into whimsical compotes! They're ideal for serving little appetizers, dips and spreads. They're also a fun way to present small dessert items like cookies, truffles and cupcakes to guests. So cute for a brunch, garden party or for formal afternoon tea!
Simply invert teacup, dab about 5 dots of hot glue around the bottom edge of cup. Gently press a coordinating saucer onto the inverted teacup (rim-up so cup and saucer are bottom-to-bottom…see picture above.) Allow glue to dry for a few hours before using.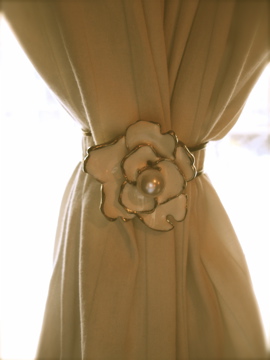 ~Bracelet as Curtain Tie-Back~
A fun way to use bracelets you no longer wear… or thrift store costume jewelry! I've used necklaces for this purpose too…just wrap them around the area of the curtain you would like to secure and clasp closed. So pretty!
What are your favorite repurposing ideas?
~Melissa
You may enjoy these related posts: