Print Friendly Version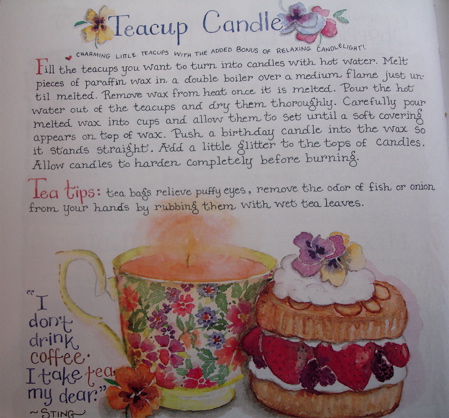 page 16- "Welcome Home" by Melissa Placzek
There are several pages where I talk about tea and tea-related treats in my books, Chin Deep in Bubbles and Welcome Home! I remembered this while deciding what to post for Teatime Tuesday. I'll be posting these little luxuries periodically throughout the next few months so you can enjoy them. Above are the instructions for transforming teacups into candles. Have fun creating some for your home…and maybe adding them to gift baskets for the holidays?
Today I'm headed out to my favorite coffee shop to work on page layouts for my upcoming tea book. I have lots of decisions to make. Although it will be like my previous books in some ways, in other ways it will be much different. I look forward to this dream becoming a reality and sharing it with you. It really has been a learning experience, and a huge labor of love.
XO,
Happy Teatime Tuesday!
~Melissa
You may enjoy these related posts: