Print Friendly Version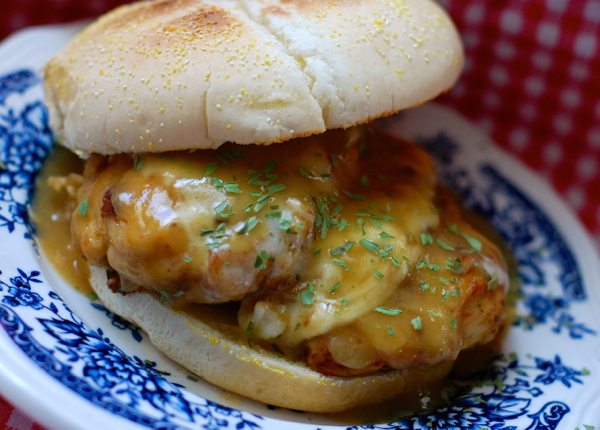 My hubby made up a big batch of his famous Chicken Marsala a couple nights ago, and I decided to use up the leftovers for our lunch today and create a sandwich! Oh MY! Did it ever turn out great!
If you don't happen to have leftover Chicken Marsala in your fridge, have no fear. Any leftover chicken will do. Here, let me show you what to do…
for one Chicken Marsala Sandwich:
1 large, cooked boneless skinless chicken breast (or leftover piece of Chicken Marsala)
enough thin slices of Mozzarella cheese to cover the piece of chicken
1/4 cup Marsala sauce (pre-made, or use recipe below)
1/4 teaspoon fresh or dry tarragon
a sprinkle of white pepper
fresh, sauteed mushrooms (optional)
1 good quality sandwich roll or bun, toasted
butter
1 small clove fresh minced garlic
mayonnaise
If you're using cold, leftover chicken, place it on a microwave-safe plate and then place the cheese slice(s) over the top. Cover and cook for 1 to 2 minutes, or just until chicken is hot and cheese is melted. Cover to keep warm and set aside.
Toast roll. Mix a little butter with the minced garlic and spread it on both sides of the roll. Add a little mayonnaise too, if you wish. Place chicken on roll, followed by some sauteed muchrooms (if using) the sauce, and a sprinkling of tarragon and white pepper. Serve immediately with your favorite chips or these Italian Oven-Baked Fries!
for the quick Marsala sauce:
(enough for two sandwiches)
1/4 cup dry Marsala wine
2 to 4 teaspoons cornstarch mixed with 1/4 cup cold chicken stock (whisk until smooth)
1/2 teaspoon sugar
salt and pepper, to taste
Place all in a small saucepan. Heat over medium-high, whisking constantly until hot and thickened. Serve immediately over chicken sandwich.
Enjoy!
~Melissa
You may enjoy these related posts: